Henry 'sorry' for ranting at Arsenal fan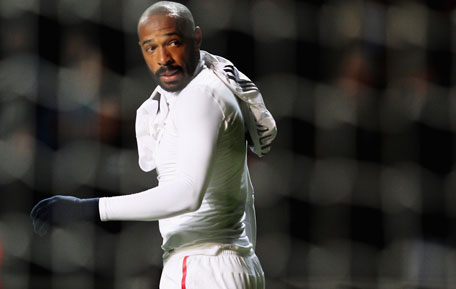 Returning Arsenal hero Thierry Henry is sorry for berating a fan who hurled abuse at him after their shocking 3-2 defeat at Swansea on Sunday.
The Sun reports that Henry used the newspaper to apologise for swearing at an Arsenal supporter.
The Gunners legend admitted he lost his cool when abuse was hurled at him by a disgruntled fan after his side's humiliating defeat to promoted Swansea at Liberty Stadium, according to The Sun.

Ironically Henry had insisted the Arsenal players go over to applaud their 2,000-strong travelling support but was incensed when one individual screamed obscenities.

The French star, on a two-month loan from New York Red Bulls, told The Sun: "I was really shocked and disappointed on Sunday — and not just at the result.

"After the final whistle of a very tricky game, I insisted the whole team go and applaud the Arsenal supporters.

"When I arrived in front of our own fans, I couldn't understand the abuse the team were getting from one of them.

"I wanted to tell the fan in question that we need their support not abuse. The sentiment was right but in hindsight could have been better expressed.

"So I would like to first and foremost apologise for using inappropriate language to that particular 'supporter'.

"I didn't intend to be malicious or threatening and am aware that it could have been said in a calmer manner.

"We have had great moments at this club but we are all in this together. We need your support in the good times but more importantly the bad.

"Let's get behind the team against Manchester United on Sunday and try to get three points to get the season back on track."

The loss was Arsenal's second in as many Premier League matches, and left disgruntled fans warring with each other on Twitter.
Many were targeting abuse at players including Aaron Ramsey, who despite replays showing he wasn't at fault, was blamed for the collision with Nathan Dyer which saw the Swans given an early penalty.
Other reports said it was a 15-year-old Gunners supporter who had a pitch side spat with the legendary striker who told him to 'support your team'.

The exchange came shortly after the full time whistle, when Henry, a 63rd minute substitute, took a section of the players over to the visiting Arsenal fans to thank them for their support and throw shirts into the crowd.
But one young fan was not in the mood to share in the embrace, instead questioning Henry and his colleagues commitment, before the 34-year-old Frenchman appeared to invite the fan down to the pitch for a face-to-face showdown.
Henry eventually left the scene exchanging words and making a 'yap yap' gesture with his hand.
In his post match press conference, an official revealed Henry simply told the outraged fan: "No matter what, you should support your team."
Follow Emirates 24|7 on Google News.