Henry targets more glory for Arsenal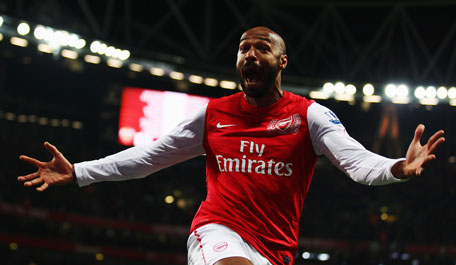 Thierry Henry tried to play down expectations after marking his Arsenal comeback with the winning goal in the Gunners' FA Cup victory over Leeds.
The 34-year-old France World Cup-winner, Arsenal's record goalscorer, came off the bench to slot home the only goal of the game with a typically composed finish to seal a 1-0 third round success in front of his adoring fans at the Emirates Stadium on Monday.
Henry, who left Arsenal for Barcelona in 2007, has returned to north London on a short-term loan deal from New York Red Bulls with Major League Soccer now in its close season.
And there remains the possibility he could feature in the derby against arch-rivals Tottenham, currently third in the Premier League table and six points in front of Arsenal, at the Emirates on February 26.
Henry said: "It would be a dream to be part of a team playing against Tottenham. It all depends on what the boss decides on how long I am going to stay.

"Don't forget I am very much a New York player and being captain I have some duties to respect.

"I will be definitely be at Arsenal for the home game against Manchester United and I would also love to be involved in the Champions League game against AC Milan. But I don't know if I'll still be here for the Tottenham game because I also have to go back and prepare in New York."

Arsenal boss Arsene Wenger confirmed: "Thierry has 6½ weeks with us and we have not envisaged more. We can go to eight weeks, but not longer."

Henry is determined to make the most of every minute of his brief return to Arsenal, but he cautioned fans not to get carried away by the manner of his return.
"I know I scored, but that is not going to happen every time I play. I don't know if my runs were intelligent or not but that's the way I play," Henry told Arsenal Player.
"I am going to try to bring what I can. Maybe another time it won't be enough, but I will always try my best."
Nonetheless, he has set himself the task of helping the club he loves back into the Premier League's top four.

Henry said: "There is a hell of a competition to qualify for the Champions League this year.

"The team is fifth in the table and that is not what you want to see as an Arsenal fan and, trust me, as an Arsenal player.

"If you think about the way they have recovered from the beginning of the season, it is clear the team is slowly getting into form.

"I am here to help them do that and, even if it is only for 20, 30 or 35 minutes, I will go out and do my best for the team.

"I know my time back with Arsenal is not going to last long, so I'm just trying to take it all in. That's something I didn't do enough of before.

"You know how it is, you come here for a game every three or four days and you don't enjoy it like you should.

"The last time I didn't know when I was going to leave. Now I know exactly when it will be over and I want to make the most of it."
Henry, who recently saw a statue of himself unveiled outside the Emirates, added: "I love the club - I say it so many times. We are not going to redo the story -- I just love the club and that's how it is.
"If the boss (Arsene Wenger) needs me for 30 seconds, a minute, if he doesn't need me, I am going to try to be around the guys and help in the dressing room.
"I am here to be another player, to help the squad and that is it."
Wenger was delighted to have his compatriot back on board.
"What is good for the young players at the club is that a guy like Thierry, who has done it all, comes and prepares 100 percent, warms up, is focused and motivated, and comes on with an immense desire to do well."
Tottenham boss Harry Redknapp was not surprised by Henry's performance against Leeds.
"I watched the game and knew Henry would score, it was written, some are meant to happen. It was just amazing," Redknapp said.
"I hope he doesn't make too big an impact because we want to finish above Arsenal this season, which is not going to be easy, but I am sure he will have some impact on the football club.
"Having people like that around the place is worth their weight in gold.
"They are good professionals with good habits, the young players can learn more from watching them every day than they can from being coached by anybody."
Redknapp, who last season tried to bring David Beckham to White Hart Lane from the MLS on a short-term loan, joked Spurs would be recalling some of their club greats to counter Henry.
"We might combat him with either (Glenn) Hoddle or (Ossie) Ardiles, so we will be ready for him. Graham Roberts or Paul Miller are going to come out of retirement to kick him," said a deadpan Redknapp.
Henry's return followed Manchester United's shock recall from retirement of Paul Scholes for their FA Cup win against Manchester City and Redknapp said: "It's a bit scary when you look around and see they are still better than some of the younger players.
Henry was joined at Arsenal training on Tuesday by fellow Frenchman and former Gunners team-mate Robert Pires.
The 38-year-old Pires, who had a spell at Aston Villa last season, told his followers on Twitter: "I am training just to maintain my fitness level! But thanks I appreciate you all want me back at Arsenal!"
Wenger has already decided 21-goal top scorer Robin van Persie will return to lead the attack for Sunday's Premier League trip to Swansea and does not know what role Henry will play at the Liberty Stadium.

Henry added: "I am not stupid enough to think I am going to be starting many games.

"I'm not 25 any more so don't expect me to take the ball from the middle of the park and dribble past five or six players.

"Monday night was one of the best moments of my career because it was the first time I wore the Arsenal shirt as an actual fan.

"I became a fan when I left the club in 2007, so now I know exactly how it feels to score for the club that I support.

"It all still feels like a dream. I just hope I don't wake up tomorrow and someone tells me it didn't actually happen."

Ex-Arsenal favourite Cesc Fabregas tweeted: "Only he could have done something like that. Fantastic."

Follow Emirates 24|7 on Google News.