Kaka denies report of move to PSG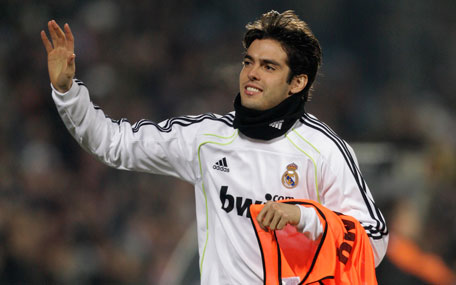 Kaka has denied a newspaper report he has agreed a move to Paris St Germain and insisted he is committed to Real Madrid.
Italian daily Gazzetta dello Sport reported on Wednesday that the two clubs had agreed a £20.7 million deal, with the transfer contingent only on Kaka hashing out personal terms with PSG.
But the 29-year-old said on Twitter: "It isn't true that I have made any agreement with another club...
"I am totally focused on following my personal and collective goals at Real Madrid."
The French club have been linked with Kaka in recent times, but it has always been suggested that Madrid are unwilling to sell the Brazil international.
Kaka has struggled to repeat the form he showed at the San Siro since his move to the Bernabeu with injury hampering his progress.
The 29-year-old Brazilian has scored four goals in 20 appearances for the Spanish leaders.
The midfielder, a former winner of the Ballon d'Or and FIFA World Player of the Year awards, signed a six-year deal when he joined Madrid in June 2009.
PSG coach Carlo Ancelotti stated on Tuesday that he had not given up on landing Kaka, whom he coached during his time in charge of AC Milan, but hinted at a summer swoop for the 29-year-old.
The Ligue 1 leaders remain keen to bolster their squad after failing to lure AC Milan striker Alexandre Pato to Paris earlier in January.
Real Madrid's Kaka and AC Milan's Pato are well-known targets for the Italian, but he says agents have bandied around plenty more names.
"Since I joined PSG (last month) I have had about a hundred calls from agents proposing some absolutely unthinkable players!
"They all want to come here; the money is there, it's Paris, there is a coach with a good reputation...," the Gazzetta reported Ancelotti as saying.
"Names? Well, Tevez, Torres, (Manchester United's Dimitar) Berbatov, (Tottenham's Roman) Pavlyuchenko, (Napoli's Edinson) Cavani, (Bilbao's Fernando) Llorente.
"Kaka could be free in June," former Milan and Chelsea coach Ancelotti went on.
"Pato? That's a strange story - we don't know. We'll see. For January that one's no longer a topic. In June ..." he mused, having tried and been turned down in the current transfer window.
Follow Emirates 24|7 on Google News.