Klaas-Jan Huntelaar: 'The brilliant buy' Chelsea, Arsenal, Man Utd must consider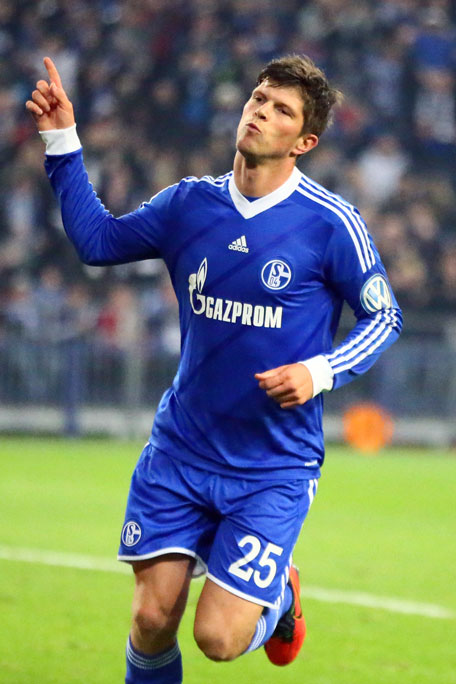 It's the curious case of Klaas-Jan Huntelaar.

Once he was tracked by the high and might of Europe and with Manchester United pretty close to a deal.

Then Real Madrid dumped him and the Dutch striker simply faded away from the radar of the premier clubs of Europe.

With at the English Premier League clubs realising that they have to spend to keep up with the Spanish and German giants, both Arsenal and Manchester United will look to buy in the summer. As will Chelsea.

Is Klaas-Jan Huntelaar the 'brilliant' buy waiting to happen?


On show tonight

Klaas-Jan Huntelaar has gone on to become one of the Bundesliga's most prolific strikers since he was shunned at Real Madrid and will finally have a chance to show his former club what they are missing on Wednesday.

Huntelaar's Schalke 04 host the nine-times European champions on Wednesday in the first leg of their round-of-16 tie and the Dutchman, who has scored 51 goals in 89 league appearances for the German side, is looking forward to it as much as anyone.

"I worked very hard to return as soon as possible and now I am back, playing, helping the team and scoring goals," the 30-year-old, who returned to action in mid-January after a four-month layoff caused by a knee injury, told the Spanish sports daily Marca.

"I had some very tough moments. I think I am coming into the tie in very good condition."

Real bought Huntelaar from Ajax for 27 million euros ($37.1 million)in January 2009 and he scored a respectable eight goals in 20 appearances, yet it failed to impress one of the world's most demanding clubs.

Just eight months later, he was sold to AC Milan for 15 million euros after Florentino Perez returned as Real president and cleared out the Dutch contingent which also included Arjen Robben and Wesley Sneijder.

Huntelaar ended up spending a season at AC Milan, where he scored seven goals in 30 appearances, before joining Schalke in 2010.

Coincidentally, Milan and Real met in the Champions League that season but Huntelaar was an unused substitute in both games.


No Option

"Madrid is a great club, with fantastic people," he said. "I arrived during a difficult time for the club in every sense. We were far behind Barcelona but we played a good second half of the season and closed the gap to the top significantly.

"Despite everything I was focused on playing, on fighting for a place in the team, but they didn't give me a chance and they left me no option.

"They wouldn't even let me train with the rest of the squad, they shut me out. I had to leave. So I sought an exit and moved to Milan.

"Obviously it wasn't my objective to leave Real Madrid so soon but that's football and there's no point in dwelling on it."

Schalke, eliminated by Galatasaray at the same stage last season, have won six and drawn two of their last eight games but it would still be a huge upset if they could overcome Real, beaten semi-finalists in each of the last three season.

Fourth in the Bundesliga, Schalke were outclassed by Chelsea in the group stage, losing 3-0 home and away, and needed to a controversial 2-0 home win over FC Basel to sneak through in their last game.

Real, on the other hand, scored 20 goals in the group stage, with a record nine coming from Cristiano Ronaldo, and they dropped only two points. They are unbeaten in their last 26 games in all competitions, a run stretching back to October.

However, they have a very poor record in Germany with only one win in 25 previous visits and their 18 defeats included last season's humiliating 4-1 loss to Borussia Dortmund in the semi-finals.
Follow Emirates 24|7 on Google News.