Liverpool flop Carroll gets Dalglish backing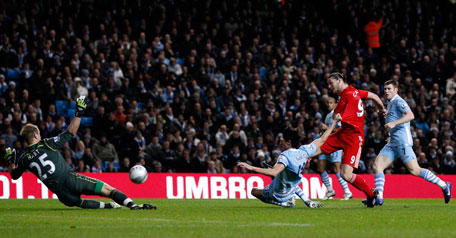 Liverpool manager Kenny Dalglish is willing to turn a blind eye on yet another sloppy performance by their most expensive signing Andy Carroll during their Carling Cup first leg semifinal win over Manchester City on Wednesday.
Instead the Kop legend trained his guns on the media for unsettling the £35 million England international by inventing stories about his imminent transfer at his post-match press conference.
He angrily dismissed rumours that Carroll is about to leave Anfield, saying the claims have "absolutely no foundation whatsoever".
"I am worried about the people that invent them," he said.
"You have absolutely no foundation whatsoever (for the stories).
"I don't need to justify what is in the paper. I have stood up - and always will stand up - for the players."
Dalglish continued to defend a striker who has scored four goals this season but has yet to find his best form since his transfer to Merseyside almost 12 months ago.
Turning the argument around on journalists Dalglish added: "You justify your profession and you justify the story."
Nevertheless, Carroll is a shadow of the player who racked up 33 goals in 90 matches and provided many more assists in the Newcastle shirt.
A year ago, he looked an absolute certainty for Fabio Capello's Euro 2012 squad but the England boss famously questioned his drinking habits.
He failed to make an impact agaist Manchester City with his first touch was awful, mistiming headers and any would-be lay-offs bounced away from him.
When he got a chance after managing to force his way past Stefan Savic, he was denied by City keeper Joe Hart.
Carroll looked slow, cumbersome and lost. The game appeared to be going on around him rather than the striker taking an active part in it.
Reports suggested the Carroll's former club Newcastle were preparing a cheeky cut-price £10m bid to take the England striker back to his native north east.
The Magpies woke to headlines suggesting they could make a swoop to end the 23-year-old's miserable year on Merseyside.
However, as they attempt to fend off any interest in their current leading marksman, Demba Ba, the Tyneside club played down speculation that Carroll could be heading back to the north-east. It is believed there has been no contact between the two clubs.
Carroll's representatives have also insisted they have neither been told to look for, nor are seeking, a move for their player.
In addition, Carroll himself has told friends he will not be returning to Newcastle with Luis Suarez's eight-game suspension likely to hand him the chance to finally establish himself in Dalglish's team.

Follow Emirates 24|7 on Google News.