Liverpool legend survives horror crash in Egypt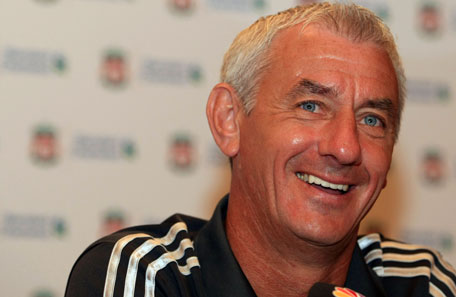 Liverpool legend Ian Rush survived a horror car crash during a club promotional trip to Egypt.
A shaken Rush could nearly have missed out on Liverpool's big Carling Cup night, the Sunday Express reported.
Anfield ambassador Rush was in a car going to see the pyramids just a few days before Kenny Dalglish's side booked their first trip to Wembley since 1996 by beating Manchester City in the semi-finals.
The car was struck by a vehicle travelling at speed and was sent hurtling towards a wall.
"Everything was in slow motion," he said. "As I saw the wall I feared the worst, but luckily the wall collapsed under the impact and that saved us.
"There were four of us in the car and when you looked at the state of it, written off, you wondered how we all escaped without serious injury.
"The other car was also a write-off. I don't think I've ever felt so lucky or relieved. We eventually arrived at the pyramids three hours late.
"Afterwards I was desperate for a drink to calm my nerves, only to find the restaurant didn't sell alcohol. I was stuck on water, absolutely gutted."

The Welsh legend was also pleased that Kenny Dalglish had been vindicated after publicly cricising his under-performing players after the loss against Bolton.
"I'm absolutely delighted, especially after Kenny Dalglish had come in for stick from some quarters, which is unbelievable considering what he has achieved in the year he has been manager," said Rush.
"What he said after the defeat against Bolton was right. You've got to be up for it in every single game," he added.
"Getting to the final is massive for the fans. There is a buzz in the city. Steven Gerrard was right when he said he would rather win the Carling Cup than finish fourth in the league," said Rush who has won the League Cup as a player a record five times.
Liverpool are eyeing a double after knocking out Manchester United in the fourth round of the FA Cup.
He said: "You never get fed up of lifting a trophy. It's a wonderful feeling.
"It's great for me as a Welshman for Liverpool to be facing Cardiff. It's a dream final."
Follow Emirates 24|7 on Google News.