Liverpool's Carroll stands tall after FA Cup win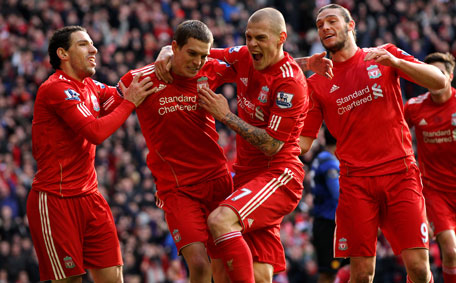 Liverpool manager Kenny Dalglish has moved to squash speculation that they were looking to offload striker Andy Carroll during the January transfer window.
Dalgish praised Carroll for his role in Liverpool's dramatic FA Cup win against Manchester United and insists he is keen to continue working with the striker.
This follows reports claiming Manchester City had turned down an approach from the Merseysiders about a potential swap deal with Carlos Tevez and the £35 million England international.
That came on the back of speculation earlier this month - dismissed by Liverpool - that Newcastle were keen to take their former number nine back to the north-east if they could get a cut-price deal.
Liverpool have refused to comment on the story, insisting they never do on transfer speculation.
But after Carroll played a part in both goals in Saturday's win, Dalglish believes that Liverpool are starting to see the best of Carroll who has struggled since his arrival at Anfield over a year ago.

"I thought Andy had a fantastic game," said the Scot of Carroll did not find the net but used his physical prowess in the area as Daniel Agger headed in the first and then set up Dirk Kuyt for the late winner.
Dalgish said: "He works really hard and gave everything he's got for us.
"He has a lot of attributes for us to work on. I am sure that (performance) will do him no harm whatsoever in terms of confidence.
"The individual awards are all well and good but collectively we want to start showing an improvement and winning things and if we continue with that commitment we have a chance."
It was only a week ago Dalglish openly criticised his players for the first time after a dismal 3-1 Premier League defeat at Bolton.
Since then they came from behind twice to draw with Manchester City and secure a place in the final of the Carling Cup and then dispatched their arch-rivals United out of another knockout competition on Saturday.
A contender last year for England's Euro 2012 squad, the 23-year-old Carroll has dropped well down the pecking order and has been in and out of the Liverpool side despite fellow forward Luis Suarez serving a long ban.
His team mates have had difficulty refining their passing game to accommodate a tall frontman but boss Kenny Dalglish thinks Liverpool may finally have cracked it.
The Reds boss said: "He is good in the air but he we have to develop that, he has to develop it and he has got to work within our framework as well.

"We will work with him and we will be a lot more patient than a lot of people.
"I am sure we will get the rewards in the end but they are starting to bear fruit now."
He was delighted with the response he got from his squad.
"We will have to wait and see what this week means for the season but it has got us in a Carling Cup final and the next round of the FA Cup," added the 60-year-old.
"It started badly for us at Bolton and it is fantastic credit to the players, and shows how much pride they take in the club, that they got themselves back on track as quickly as they did.
"They were two enormous games and coming out on the winning side twice - once on aggregate - deserves great credit.
"It has been a really difficult week for us. To play two good teams like City and United is even more of a task - we've had a good week.
"It is much better than it was last Saturday. It is fantastic for us to progress from a very difficult week.

"Their commitment, attitude and desire to get a result was fantastic and we cannot speak highly enough of them after that performance and result today."

Follow Emirates 24|7 on Google News.