Liverpool's Suarez escapes red card for kick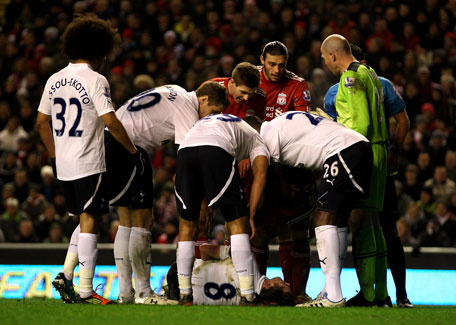 Liverpool manager Kenny Dalglish hailed the return of Luis Suarez after an eight-game ban and once again insisted that he should not have been suspended in the first place.
Suarez, hit with the punishment after a Football Association board found him guilty of making a racist comment to Manchester United's Patrice Evra, was given a rapturous reception from Liverpool fans when he came on as a 66th minute subtitute against Tottenham at Anfield on Monday.
But the controversial Uruguay striker's first taste of action since December 26 ended in frustration as Liverpool were held to a goalless draw - and the former Ajax player was booked for accidentally kicking Tottenham's Scott Parker in the stomach.
Suarez can expect a hostile reception when Liverpool visit Manchester United on Saturday in the Premier League - particularly after Dalglish's latest comments.
"I'm delighted that the wee man is back. He should never have been away but we've taken the punishment and we've moved on," said the Liverpool manager after his side's eighth home draw this season.
"It would have been unfair to start him, he's not played since Boxing Day," added the Scot, who along with the club was heavily criticised for their defence of Suarez even after he was found guilty.
With England manager Fabio Capello watching from the stand, Suarez caught midfielder Parker in the stomach while trying to volley the ball in the penalty area.
Former West Ham player Parker was doubled-over in agony and the incident brought Suarez a yellow card - but one high-profile observer felt he was lucky to stay on the pitch.
Manchester United striker Wayne Rooney used his Twitter account to say: "If ref sees that kick from suarez and books him for it it should be red."
Dalglish added: "He has not played since Boxing Day. Every time he gets on the ball we think he is going to do something."
Liverpool remain seventh in the table - four points adrift of fourth-placed Chelsea with 14 games remaining.
As for Tottenham, they are in third spot, five points behind second-placed Manchester United.
Spurs were without manager Harry Redknapp, who was forced to abandon his flight to Anfield due to technical problems having earlier appeared at Southwark Crown Court in the closing stage of his trial on tax evasion charges.
Instead assistant manager Kevin Bond took charge for the night.
"It was a hard but fair contest," said Bond, after Gareth Bale spurned Tottenham's best chance in the closing stages.
"Harry couldn't quite be here. We knew what the side was going to be and how we were going to play. It was just a different voice.
"He (Harry) is our leader. We wanted him here.
"The last time I spoke to him he was on a plane but he obviously didn't make it.
"We had to work really hard and defend for our lives at the end.
"We didn't create many chances but we had the best chance of the match five minutes before the end, and it just was not meant to be.
"For Gareth Bale's chance, the goalkeeper stood up well and it was a big moment for us, but a point was a good result for us."
Follow Emirates 24|7 on Google News.