Liverpool turn down swap deal for Carroll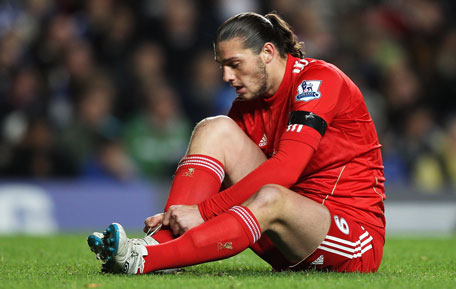 Liverpool's £35 million flop Andy Carroll has been given a fresh lifeline to stay at Anfield after manager Kenny Dalglish rejected an Aston Villa inquiry for the beleaguered striker.
Villa manager Alex McLeish has tried to tempt Liverpool into a swap deal involving Carroll and his £24 million hitman Darren Bent, according to Sunday Express.
With indications coming out of Merseyside that England striker Bent was on Liverpool's wanted list, the Midlands club contacted Anfield proposing an exchange deal.
Bent has plenty of support among the hierarchy at Anfield, including Director of Football Damien Comolli who took him from Charlton Athletic to Spurs for £16.5 million in 2007.
But Dalglish was adamant he didn't want Carroll to leave and so any transfer discussions were cut short.
With Luis Suarez in the midst of an eight-game ban, Dalglish remains confident the 23-year-old former Newcastle star will regain the form which gained him three England caps.
However, Carroll was left on the bench by Dalglish until the last half-hour of the 0-0 home draw with Stoke on Saturday, which he largely spent falling over.
When belatedly summoned, Carroll at least provided a presence, resulting in a series of penalty appeals when he collided with Robert Huth or Ryan Shawcross; "more out of desperation," Stoke manager Tony Pulis said.

Beyond that, Carroll's afternoon was notable for blocking a goalbound effort from Henderson.
The Liverpool manager attracted criticism for selecting Dirk Kuyt, who has not scored a Premier League goal all season, as a lone striker, with Carroll left on the bench.

Kuyt missed the best chance of the match, heading wide from a cross from Enrique in the closing stages.

But Dalglish defended his selections and added: "We always play as a squad, not 11 players. We're not in that fortuitous position to do what Bill Shankly always said and have the same team in April as we had in August."
Newcastle boss Alan Pardew has slammed speculation linking Carroll with a dramatic return to the club, claiming the rumours have 'no foundation'.
The 23-year-old has struggled with both injuries and form since his sensational £35million move to Anfield on transfer deadline day last January.

He has scored just six goals in 12 months for the Merseysiders, after netting 11 in the first five months of last season in a black and white shirt.
Pardew has issued a denial, dismissing out of hand speculation of a proposed January bid.

"I think it's unfair on the Newcastle public and I think it's unfair on Andy," said the 50-year-old.

"It was speculative journalism that had no foundation."
But Villa are likely to try again in the summer if Carroll continues to struggle in front of the Kop.
Meanwhile, in a fascinating analysis, Mirror Football have revealed why Carroll has been inferior since moving to Anfield in all departments except one.

"The goals have dried up. He has not set up a single goal for a team-mate. And this from a 6ft 3ins striker who was supposed to cause havoc in opposing defences, as well as score goals himself," the report said.

"His shooting is less accurate. He's ­winning fewer headers anywhere on the pitch and certainly failing to win headers that are converted into goals. The one up-side has been that big Andy has halved his rate of conceding fouls. A cynic might suggest that's because he's not as involved in the game as much with Liverpool as he once was with the Geordies," it added.

Carroll was left out of the starting line-up against Stoke on Saturday.

Although Carroll's lack of goals have inevitably led to increasing speculation Liverpool will cut their loses and sell him.

But Dalglish has assured Carroll they are not in the market to sell him.


Follow Emirates 24|7 on Google News.