Man Utd's Ferdinand returns Suarez snub of Evra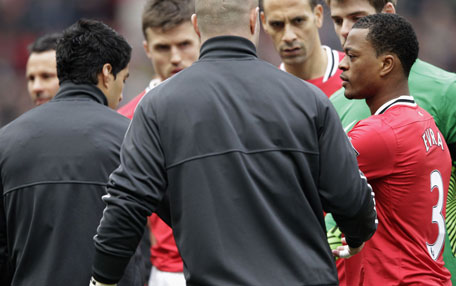 Manchester United manager Sir Alex Ferguson said Liverpool should sell Luis Suarez and ensure he never plays for the club again after the Uruguayan snubbed Patrice Evra's handshake.
Ferguson's outburst came in the wake of an ill-tempered meeting between the clubs at Old Trafford which United won 2-1 thanks to goals from Wayne Rooney.
Ferguson also made an impassioned plea for English football to ensure that racism is stamped out of the game once and for all.
Suarez was starting a game for the first time since serving an eight-match suspension, handed out by the FA after he was found guilty of racially abusing United defender Evra in a game between the clubs in October.
Before kick-off, Suarez refused to shake Evra's hand as the two clubs met in the traditional pre-match handshake between opposing clubs.
In response, United's Rio Ferdinand declined to shake Suarez's hand, setting the tone for an ugly afternoon which featured a tunnel melee at half-time as Evra reportedly attempted to remonstrate with the Liverpool forward.
On the final whistle, Evra also inflamed matters when his enthusiastic celebrations took him alongside Suarez in what appeared a clear attempt to taunt his rival.
"For a club with their history, I'd get rid of him, I really would," said Ferguson.
"Liverpool Football Club have a player banned for eight matches and they've tried to blame Patrice Evra. It's him they should be bloody blaming. He could have cost them a European place.
"I couldn't believe it. I just could not believe it. We had a chat this morning and Patrice said, 'I'm going to shake his hand, I have nothing to be ashamed of, I'm going to keep my dignity.' And he refuses.
"He is a disgrace to Liverpool Football Club. That player should not be allowed to play for Liverpool again. The history that club has got ... and he does that today. It could have caused a riot.
"I was really disappointed in that guy."
Ferdinand responded in the handshake line by ignoring Suarez as the mood turned confrontational even before a ball was kicked.
"It created a tension," said Ferguson. "You have seen, the referee didn't know what to do about it. It caught him off guard.
"It was a terrible start to the game, a terrible atmosphere it created."
Ferdinand also entered the controversy by explaining his actions. "After seeing what happened, I decided not to shake his hand," he said.
"If he is not going to have the respect to say sorry. I lost all respect for the guy.
"It could have been resolved between the two players today. After this, it's not great. I'm disappointed because I expected more from the other guy."
Ferguson has remained in favour of the ritual of the pre-match handshake and believes the Premier League, and football in gerenal, need to be clearly focused upon driving racism out of the sport.
"Having the handshake is a different issue altogether," he said. "That started with the Premier League but it's never been a problem really up until this situation regarding racism.
"We've really got to get our house in order in terms of fighting racism. It's an issue, an absolutely important issue in this country.
"Football has come a long way from the days of John Barnes, people throwing bananas at him but we can't go back. We have to go forward in a positive way and ban it all together."
Suarez scored a late consolation goal for Liverpool but, in the wake of the post-match media reaction, their manager Kenny Dalglish declined to take part in the scheduled press conference.

Follow Emirates 24|7 on Google News.