Maradona treated for kidney stones in Dubai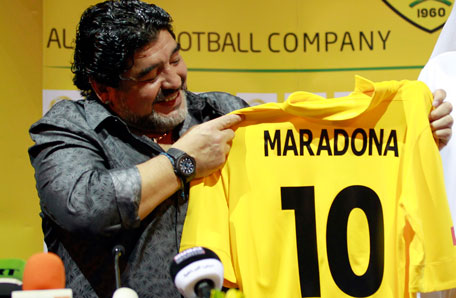 Argentine football legend Diego Maradona was successfully treated for kidney stones at a private hospital in Dubai, Al Wasl club he coaches said.
Maradona complained of abdominal pain on Sunday morning and was admitted to a hospital where it was diagnosed that he was suffering from kidney stones.
On Sunday, the club tweeted messages on its official site saying that the Argentinian World Cup winner had been taken to hospital. "Maradona admitted to hospital after suffering from slight complications from kidney stones," the tweet said.
The 51-year-old began feeling pain after the club's match on Saturday and was later admitted to hospital, an Al Wasl spokesman said, adding that the treatment was successful and that Maradona is expected to be released on Monday.
On Saturday night, Al Wasl rallied to defeat Al Ahli 2-1 in the Etisalat Pro League.
This was Al Wasl's first win in their last six Pro League matches.
During the post-match conference on Saturday night, Maradona congratulated his players for their victory saying it was "an outstanding performance from his boys."
Maradona is likely to rejoin the team after some days rest for a January 23 match, the spokesman added.
The 1986 World Cup-winner signed a contract with Al Wasl in June, 11 months after he was dismissed as Argentina's coach.
Follow Emirates 24|7 on Google News.