Real all set for Barca quarter-final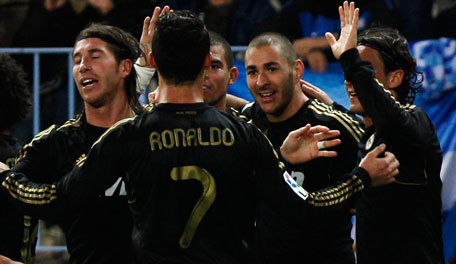 Holders Real Madrid beat Malaga 1-0 in the Spanish Cup on Tuesday as Karim Benzema took them through to a near certain, mouthwatering quarter-final clash with Barcelona.
Real Madrid already had a one-goal advantage after their 3-2 win in the Bernabeu and in-form French international Benzema sealed their return leg victory with a well-taken 71st minute shot that was badly fumbled by keeper Willy Caballero.
Barring an unthinkable collapse, Barcelona and their three-time Ballon d'Or-winning Argentinian superstar Lionel Messi will move in to the quarter-finals Thursday when they play a return leg in Osasuna with a 4-0 advantage in hand.
That would set up Madrid-Barcelona matches on January 18 and 25, an El Clasico duel pitting two of the world's best clubs and biggest rivals against each other.
This time, there's an extra twist to the match-up.
Real Madrid lead Barcelona by five points at the top of the Liga after the Catalans were held to a 1-1 draw by city rivals Espanyol on Sunday.
But Jose Mourinho's men will still want to wipe out the memory of their humiliating 3-1 league defeat at home by Barcelona on December 10.
Heavily bank-rolled Malaga, who were taken over by billionaire Qatari Sheikh Abdullah Al Thani in 2010, looked dangerous up to the last minute at home in the Roselada.
Real's German playmaker Sami Khedira picked up a right ankle injury in the 39th minute and was stretchered off. Khedira took a knock from Malaga's Sergio Sanchez as he narrowly failed to score after a nonchalant pass by Cristiano Ronaldo.
Asked whether the Khedira injury was serious, Mourinho didn't think so.
"No, serious, no. Almost 100 percent we think it is not very serious."
A header by Ronaldo bounced right in front of the goal in the 62nd minute, but a diving Caballero managed to tip it over the bar.
Four minutes later, a diving header by Gonzalo Higuain screamed into the top right-hand corner but was clearly offside and disallowed.
Finally, it was a humiliating fumble by an otherwise superb Caballero that gave Real Madrid the decisive goal.
Caballero seemed to have safely smothered a shot by Benzema off a cross by Mesut Ozil but as he crouched over the ball, it trickled beneath him and crept across the goal line.
Content to play safe afterwards, Real nevertheless lost Alvaro Arbeloa to a red card in the 89th minute.
Follow Emirates 24|7 on Google News.