Rooney buoyed by Manchester Utd's fightback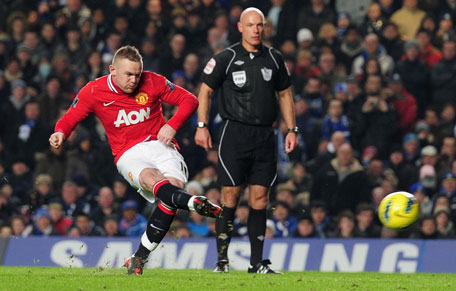 Wayne Rooney believes Manchester United's three-goal comeback against Chelsea could prove decisive in the Premier League title race, even though the champions lost ground on leaders Manchester City after a dramatic 3-3 draw at Stamford Bridge.
Sir Alex Ferguson's side now sit two points adrift of City, who beat Fulham 24 hours before the six-goal thriller in west London on Sunday.
A Jonny Evans own goal and strikes from Juan Mata and David Luiz left United three goals down by the 50th minute.
But they showed true grit to fight their way back onto level terms through two controversial penalties, both converted by Rooney, and a Javier Hernandez equaliser in the 84th minute.
And United striker Rooney is confident his team's sensational second half recovery will not have gone unnoticed by Roberto Mancini's City squad.
"Of course it's two points lost, we understand that, but after being 3-0 down all the City players at home won't enjoy watching us, the way we fought back and the spirit of the team," Rooney said.
"They know it will be a long fight to the end and we'll be there to the end.
"From the start we controlled the game and we were unfortunate to go in 1-0 down, then in the second half they hit us with two goals in five minutes and we knew we had to dig in.
"We knew if we got one goal there was time to get something out of the game. We fought well and fought hard and that point could win us the league.
"A lot of teams would find it easy to put their heads down and accept defeat but we carried on, worked hard and thankfully got something out of the game."
Referee Howard Webb found himself at the centre of attention because of the two penalties he awarded United, and the two he denied Ferguson's side in the first half.
Ferguson inevitably felt aggrieved by the two his side didn't get and he said: "We had two penalties in the second half which I think were justified, I think that we could have had four penalties and a winning game.
"But it was a massive effort from our players and a great game for the neutral watching the game, from 3-0 to 3-3 was fantastic.
"Chelsea played a great part in it too although I thought we were the better team."
Chelsea manager Andre Villas-Boas admitted he was disappointed by the failure to wrap up the win from such a commanding position.
The defensive meltdown leaves the Blues just one point clear of fifth placed Newcastle in the race for a top-four finish.
But Villas-Boas believes Webb got at least one of the major decisions wrong, just as he claimed Phil Dowd had when Chelsea lost 3-1 at Old Trafford earlier in the season.
"The first one is an obvious penalty, nothing to say. The second is very, very dubious," Villas-Boas said.
"I don't know if Howard Webb had the correct angle to make the decision, but it was unlucky from him to give it.
I'm not sure if he's compensating from anything in the first half, but it was the wrong decision. From 3-1 to 3-2 is immense, and 3-3 is almost normal service.
"It's a big disappointment on the way it happened. At Old Trafford there were two goals offside, and maybe today a dubious decision that, in the end, shifted the running of the game.
"In both games against United, top, top refs... you expect it to be perfect in terms of refereeing. On these two games, they have had a direct influence on the result."
Sadly, one of the matches of the season was slightly marred by the constant booing of United defender Rio Ferdinand by Chelsea supporters.
The jeers came because Chelsea skipper John Terry, who missed this game with a knee injury, is facing charges of racially abusing Ferdinand's brother Anton.
"This is a normal situation in this game," Villas-Boas said. "You don't expect opposing fans to cheer your players."

Follow Emirates 24|7 on Google News.