Rooney wants to stay at Man United: Ferguson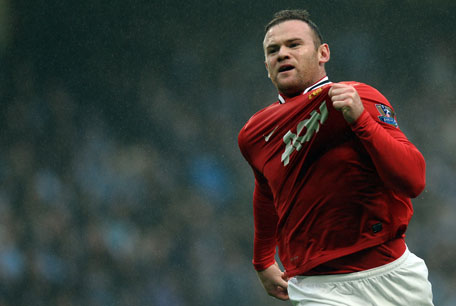 Manchester United manager Sir Alex Ferguson believes Wayne Rooney will have to get used to dealing with a level of press scrutiny not seen by an England player since Paul Gascoigne.
Rooney scored twice as United dumped holders and local rivals Manchester City out of the FA Cup with a 3-2 win at Eastlands on Sunday.
But the weekend began with reports his relationship with Ferguson had been damaged beyond repair after he was left out of the team for the recent defeat against Blackburn following a poor training display after he stayed out late on Boxing Day.
There had even been suggestions United could be ready to sell the England striker, possibly in the current transfer window.
However, both parties swiftly distanced themselves from such talk after United survived an uncomfortable second half against a City side that played with 10 men for 79 minutes after defender Vincent Kompany was sent off.
"There is absolutely no problem with Wayne Rooney," said Ferguson, who then compared the forward to ex-England midfielder Gascoigne, whose career became as notable for a series of lurid off-field headlines as it was for his undoubted on-field ability.
"You hear this stuff all the time and what Wayne has to realise is the media have another Paul Gascoigne," Ferguson said.
"They have a headline maker, whether it is good or bad, and Wayne is going to have to suffer that.
"We have seen the good stuff today but any flaws will be absolutely annihilated by the press. That is what they are like," he added before United were paired with bitter rivals Liverpool in the fourth round.
Rooney did submit a transfer request in October 2010 but Ferguson insisted on Sunday: "There is no problem with the boy's temperament at all.
"It is just off-the-field he is going to be spotlighted all the time."
And Rooney stressed he wanted to spend many more years at Old Trafford.
"I think everything that has been said is a lot of nonsense," Rooney said.
"Because it is me, because it is Manchester United, it is blown out of context," the 26-year-old, who joined United from Everton in 2004, added.
"There is no problem with me at this club. I want to be at this club for a long time."
Ferguson was unhappy United almost let slip a 3-0 half-time lead - Danny Welbeck also netted before the break - against a City side who hit back through Aleksandar Kolarov and Sergio Aguero.
"It was a careless performance in the second half," he said. "We should have been home and dry with a clear scoreline but we were too careless."
By contrast City manager Roberto Mancini, whose side lead the Premier League by three points from champions United, was delighted with a fightback the Italian felt confirmed his team's title credentials.
"Today was important for us for the league. Now I know we can win the league because of the character we showed.
"United are the top squad in England but if we play like we did this (Sunday) afternoon, with the same attitude, the same strength, every game, we will win the league."
The match also saw 37-year-old United great Paul Scholes, who retired last season, come off the bench in the second half after the former England midfielder made himself available again following an injury crisis.
"When I saw he was on the bench, I told (City coach) David (Platt), 'go on the bench, please!," joked Mancini.
"But Paul Scholes is a fantastic player. He is no stranger to us but it was still an incredible surprise."
Follow Emirates 24|7 on Google News.