Rwandan chief wants Wenger to leave Arsenal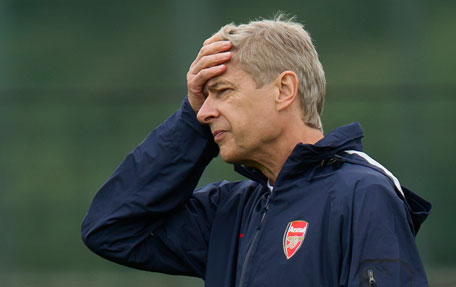 The growing army of Arsenal fans who argue that Arsene Wenger has served his time received heavyweight support from one of the club's most high-profile supporters: Rwandan President Paul Kagame.
The former rebel leader - who once received a signed banner from Wenger for his birthday - felt moved to call for change at the Emirates in a series of tweets following Arsenal's 2-1 defeat by Manchester United on Sunday.
"I very much support Arsenal - but to be honest Wenger needs to coach another team now and Arsenal needs another coach," Kagame wrote.
Wenger's inability to address his side's defensive woes was already testing fans' patience but a decision to bring on out-of-sorts Andrey Arshavin for Alex Oxlade-Chamberlain - who had made a sparkling start to the game - turned the crowd against him.
Wenger has coached Arsenal since 1996 but after being celebrated as the London club's greatest ever, he has gone six years without a major trophy and his aura is fading.
"When a good team (players) and a good coach fail for long to deliver, one of them has to change, or even both!!," said Kagame, who came to power in the small central African nation in 1994.
"The real/main danger is for anyone to get used to mediocre/lacklustre performance and/or results and accepts to live with it ... or keeps finding excuses for it!!!," Kagame wrote.
Kagame's tweet was a reply to Philip Etale, a communication officer for the ODM party of Kenyan Prime Minister Raila Odinga, another celebrity "gooner", as Arsenal fans are known.
Players also reacted with dismay at Wenger's decisions Sunday and Kagame argued that the Frenchman risked alienating supporters.
"I am a loyal and patient fan but I am not sure about others!!! I would not blame them at all if they were v different," the head of state wrote.
At a bash for his 50th birthday in 2007, Kagame was handed an Arsenal banner signed by the entire squad and a letter in which Wenger told him of his pride at learning that the Rwandan head of state was a keen supporter.
The annual CECAFA Club Cup which involves clubs from eastern and central Africa was renamed the Kagame Inter-Club Cup in 2002 when the Rwandan leader started bankrolling the tournament almost single-handedly.
Arsenal's worldwide fan base is also believed to include Cuba's Fidel Castro.
Follow Emirates 24|7 on Google News.