Spurs boss denies swap deal for Chelsea's Torres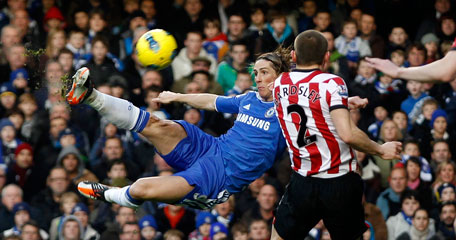 Harry Redknapp has dismissed reports claiming he is considering a possible swap deal with Fernando Torres in exchange for Luka Modric.

Chelsea failed in their bid to land midfielder Modric last summer. But despite continued links to the Croatian star, Spurs boss Redknapp insists Modric will remain at Tottenham for the long-term.

Redknapp has played down suggestions he is interested in Torres, who is battling to find goal-scoring form with his new club.
Torres has failed to impress since his move Stamford Bridge, but Redknapp feels the Spaniard would be back to his best soon.
"No I have never heard that one," he told Sky Sports when asked about a potential Torres-Modric swap.
"I think Torres is starting to look the player that we all know he can be, the player he was at Liverpool. He is a top player no doubt that about it.

"But there is no way he is coming to Tottenham and no swap deal in the offing for Luka Modric, I think they will get the best out of him."

He was echoing the sentiments of Chelsea boss Andre Villas-Boas who is convinced Torres is nearing a return to his best despite the striker's continuing problems in front of goal.
Torres once again drew a blank in the 1-0 victory over Sunderland and last scored in the Premier League on September 24 against Swansea.
The forward did set up Frank Lampard's winning goal with a spectacular volley that struck the bar, however.
And Villas-Boas believes the Spain international will now flourish from being guaranteed a run of starts in the absence of Didier Drogba who is on Africa Cup of Nations duty with Ivory Coast.
"The performance was good. He is getting his good run of games. He is finding inspiration, finding motivation, finding form. He has the team and the fans behind him. There was a good demonstration of solidarity behind Fernando from the fans," Villas-Boas said.
"It's good to see he is picking up confidence, assisting people. He hasn't been scoring but he is getting nearer every time and I think it is for the benefit of the team."
Villas-Boas insisted it didn't matter that Torres has been without a goal for so long and denied the player needs to return to the scoresheet to boost his confidence.
"I don't think so," he added. "As long as he helps the team to win games, we are happy."
Meanwhile, Redknapp also expressed his hope that Modric will soon pen a new deal at Spurs.
"I don't know where they are but hopefully the chairman will come to agreement and he signs a new contract, he has got a long contract anyway," he said.

Redknapp confirmed he will be travelling to the south of France on Sunday to watch Marseille versus Lille, where he will have a keen eye on Loic Remy.

"I am off to watch Marseille, I am going to go and have a look at him (Remy), we have had reports - I watched him 18-months two years, ago. I doubt anything will come of it but we are looking."

Follow Emirates 24|7 on Google News.