Tevez accuses Mancini of treating him 'like a dog'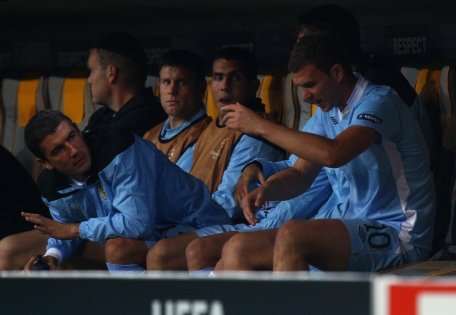 Carlos Tevez has accused Manchester City manager Roberto Mancini of treating him "like a dog" in the incident which sparked the rift between club and player.
In a sensational tell-all revelation before his return to England on Tuesday, the Argentine striker said he was the victim of circumstances during the Champions League defeat at Bayern Munich in September and almost came to blows with the Italian before this incident.
Tevez claims his relationship with Mancini first hit the rocks following a 2-1 home victory over Newcastle in October 2010.

In an interview broadcast live on Argentine TV, Tevez said: "Last season we almost exchanged punches.

"It was after a home game against Newcastle. We almost hit each other in the dressing room but we spoke the following day."

Talking about the circumstances surrounding his refusal to warm up on September 27, the Argentina international said in a Fox Sports interview broadcast in translation on Sky Sports News: "I was kind of in a bad mood and when he brings on (Nigel) de Jong and takes off (Edin) Dzeko and we're losing 2-0 I thought it was a defensive substitution so I decided to sit back on the bench.
"I had already warmed up for 10 minutes and he has this attitude that he wants to lose 2-0 instead of 4-0.
"So I sat down and at the same time Dzeko comes off and is really angry and has a go at Mancini. He then sees the tunnel is closed so he has to sit down next to him and they start to have an argument.
"Dzeko was speaking Bosnian and Mancini would swear at him in Italian so it was a real mess.
"So I go and sit down and he doesn't see me because he's having this discussion. But then he turns around and sees me and you can imagine what happens.
"He's in the middle of an argument so then he tells me to keep on warming up and treats me like a dog.
"So when he spoke to me in that tone of voice, and I said 'No, I'm not going out'. So I was willing to play, but the coach was in such a foul mood because he had that argument with Dzeko.
"He started on me as well, started swearing at me, that was him, because I was very calm. I was just sitting on the bench and you can see from the footage that I was calm and just talking with (Pablo) Zabaleta. Mancini said some horrible things to me."
Tevez is poised to resume his career with City after a period of uncertainty for the last three and a half months with Inter Milan, AC Milan and Paris St Germain all showing interest in acquiring the striker.
His return to Manchester comes following negotiations between City's acting chief executive John MacBeath and Tevez's representative Kia Joorabchian.
Speaking on Sky Sports News, Joorabchian claimed Tevez's thoughts about the incident in Munich gave a misleading impression of his current frame of mind and claimed the player was determined once again to prove himself an asset for City, if given the chance.
To aid the situation, Tevez is likely to drop his appeal to the Premier League against a six-week club fine, totalling around £1.2 million.
City initially slapped Tevez with a two-week fine after he failed to return to the club following the falling out with Mancini and that was increased by a further four weeks in December.

He admitted: "I was worried about my future after that two-week fine.
"That fine was Okay but I wanted people to know the truth — though the club didn't want to.

"The club statement protected the manager. I got a lot of heat from the media in England, Argentina, everywhere.

"Everytime I wanted to take my daughter to school I had five journalists on my back. I trained with the reserves. It was uncomfortable.

"I was affected because of this situation. I wanted to find shelter with my family".
Joorabchian said: "He's saying he will get himself ready as the club have requested him to do, because the club have said Carlos coming back can only be an asset to them.
"I've spoken to the club today, I've spoken to the club regularly on a daily basis and I think everyone agrees that from a football point of view Carlos can only be an asset.
"Now him and Mancini have obviously managed to resolve issues. What he had explained in his interview is how he felt back then. I think that the club and Carlos are taking this in a very positive way."
Tevez is himself looking forward to the challenge of returning to a club which is on the threshold of Premier League glory and also winning back fans.
He said: "I know I have what it takes to change the situation. I know it'll be hard, but it's a nice challenge.

"To be insulted by fans after what happened in Munich was something I didn't deserve.

"I was very upset by everything and maybe I wasn't seeing things clearly. That Bayern episode could have been avoided.

"They could have kicked me out of the club without saying all the things they said. Deal with the situation in a different way.

"I think that's where Mancini got things wrong. If we had a problem, we could have sorted it out in a different way.

"I didn't understand City fans burning my shirt. It hurt but I want to go back to Manchester and win over the City fans back. People turned their back on me but it's normal.

"I didn't understand. It was a delicate situation. I decided to say nothing about it during all this time.

"I decided not to talk to the media for the last four months. The last time I spoke was right after the Bayern Munich game."
Relations between Tevez and Mancini appear to be thawing after the City boss hinted he could welcome the striker back into the fold.

But he challenged the Italian to prove himself by putting him back into first team action as soon as possible.

Tevez added: "If it's true that Mancini said he will welcome me back if I'm fit, then I like those quotes — but he also said I was never going to be playing for him again. So I don't know.

"I'll do my best to be available and play. My first goal now is to be back at full fitness.

"I have been training on my own. I know I can be back on the pitch in two weeks. I'm willing to play.

"I know I have a huge challenge ahead. I'm full of energy. Thanks to all the people that were with me during these last four months I have discovered the love for the game again.

"I want to play again. I want to train. I'll do my best to do that. I said I was going to retire at 28 and was thinking about it, but not anymore. I want to succeed again."
Asked if Tevez will apologise to Mancini, Joorabchian said: "This is between Mancini and Carlos. I think one of the things that is important is that Mancini and Carlos resolve their issue, and I think they have pretty much resolved their issue, behind closed doors and I think what is important is that the football takes over."
Tevez is confident he can help them see off the challenge of his old club and claim their first championship since 1968.

He said: "It's tough to talk about City's title challenge now. I feel like I'm out the squad. I wish I can go back there and help them win.

"I know Alex Ferguson really doesn't want to lose this title race.
"I know he didn't have the best relationship with me but together with (Argentina boss Marcelo) Bielsa, those two are the best managers I had.

"But Mancini is a winner and I'm a winner too. Neither of us like to lose."
Follow Emirates 24|7 on Google News.