Torres on road to recovery, says Villas-Boas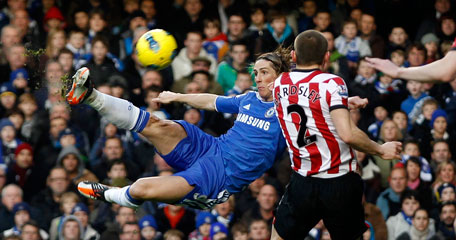 Andre Villas-Boas is convinced Fernando Torres is nearing a return to his best despite the Chelsea striker's continuing problems in front of goal.
Torres once again drew a blank in the 1-0 victory over Sunderland and last scored in the Premier League on September 24 against Swansea.
The forward did set up Frank Lampard's winning goal with a spectacular volley that struck the bar, however.
And Villas-Boas believes the Spain international will now flourish from being guaranteed a run of starts in the absence of Didier Drogba who is on Africa Cup of Nations duty with Ivory Coast.
"The performance was good. He is getting his good run of games. He is finding inspiration, finding motivation, finding form. He has the team and the fans behind him. There was a good demonstration of solidarity behind Fernando from the fans," Villas-Boas said.
"It's good to see he is picking up confidence, assisting people. He hasn't been scoring but he is getting nearer every time and I think it is for the benefit of the team."
Villas-Boas insisted it didn't matter that Torres has been without a goal for so long and denied the player needs to return to the scoresheet to boost his confidence.
"I don't think so," he added. "As long as he helps the team to win games, we are happy."
The manager, meanwhile, believes Lampard will continue to rewrite the Chelsea record books.
The midfielder's matchwinner was his 124th league goal for the club, moving the England man to joint fourth on the club's all-time list of league scorers alongside Jimmy Greaves.
"I think Frank will continue to threaten all remaining records for the future. He has broken recent records for appearances and goals will continue to do so," he said.
"Frank is always a player who has this amazing timing of arriving in the box. It is no surprise he is one of the best scoring midfielders in the world because of his magnificent timing whether to collect an assist off the bar or from a team-mate."
Michael Essien returned for his first appearance of the season as a second half substitute following knee surgery, prompting the manager to hail the midfielder's comeback as a timely boost.
"To see a player make the switch from reserve team to full Premier League intensity in such a short period of time is amazing," Villas-Boas said.
"You have to give credit to the medical department who have reduced Michael's absence by a month or a month and a half.
"The team is grateful to have him back. He has always been an inspiration because of the person he is and the player he represents.
"And to see him back on the pitch so quick and with such quality is outstanding and is all down to the medical department and the player's willingness to come back."
The win moved Chelsea to within six points of third-placed Tottenham and they will be bolstered next time out by the arrival of Gary Cahill following the defender's £7 million move from Bolton Wanderers.
Cahill's arrival is likely to be quickly followed by the departure of Alex to QPR although Villas-Boas insisted the terms of that transfer had not yet been finalised.
Sunderland manager Martin O'Neill was left frustrated by his side's failure to make more of a number of second half chances but denied the performance would encourage him to move into the January transfer market.
"I know scoring a goal is pretty difficult, but it's not that difficult," O'Neill said.
"And I'm not too sure you'd have to worry whether you've got someone who scores 20 goals a season regularly - a blundering full back would have stuck a couple of those in, from about four leagues below.
"We have scored a few goals and we have been able to share them around. But today I don't think you're immediate reaction would be to go out and get someone who would get 20 goals."
Follow Emirates 24|7 on Google News.