Transfer talk clouds Dubai Football Challenge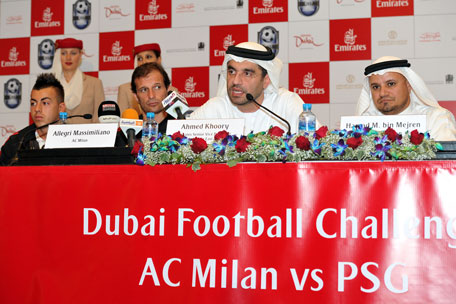 AC Milan coach Massimiliano Allegri offered an olive branch to Alexandre Pato and denied interest in signing wantaway Manchester City striker Carlos Tevez ahead of Wednesday's Dubai Football Challenge against Paris Saint Germain.
Pato recently admitted his relationship with Allegri was not as he would like, which fuelled reports PSG are preparing a €50m (£42m) bid with a salary worth €7m (£5.9m) a year.
The Brazil international has been linked with a move to PSG following the appointment of new manager Carlo Ancelotti. The 22-year-old, who is under contract at the San Siro until 2014, played down suggestions of interest from PSG over the weekend.
"Pato is a Milan player and I hope that he remains here for at least the rest of the season. Sometimes it's OK for players to vent their frustration in the papers. But he's an important player for us. I'm sure he will stay with us," said Allegri who said they have depth in the squad.
"With the forwards we already have at the club, we are fine. AC Milan have other strikers stronger than Carlos Tevez and we are not looking for Tevez at least for now. (Antonio) Cassano cannot rejoin the squad for the next few months (due to heart surgery), but Milan have enough players to try and reach the top of the table this year. And watch out for Inter in the race for the scudetto," he warned.
The Rossoneri are in Dubai until Thursday for their fourth annual winter training camp. The PSG side will arrive in Dubai on Wednesday evening, while Milan have been training there for some days.
When they take on PSG at Al Ahli's Rashid Stadium from 7.30pm, it will be former Milan coach Ancelotti's first match in charge of PSG and his first against his old club since leaving the San Siro in 2009.
"The game isn't between me and Ancelotti, to whom I wish all the best at PSG. It's simply a good test between two sides that have tremendous ambition this season, and not only," replied Allegri when asked how he felt about having to face the coach who won so much at Milan.
AC Milan stars Clarence Seedorf and Mark Van Bommel gave the thumbs up over PSG's choice of Ancelotti.
Seedorf said of his old Milan coach: "I think that with Ancelotti there's a guarantee with any team he coaches. He's proved his worth over the years. I just hope they receive him well. I know there was a dilemma at PSG with them sitting first in France's Ligue One and still sacking their coach (Antoine Kombouare). But I just hope he doesn't suffer that, because if he has the time I think he will do great there."
Van Bommel added: "It's not for us to discuss the situation at PSG and why they sacked their coach while top of the league. I can only say that, from a distance, Ancelotti seems like a good choice in manager."
The Milan-PSG match is jointly sponsored by the Department of Tourism and Commerce Marketing (DTCM) and Emirates.
"Having important clubs play here can be tremendous help for a sport that is already starting to develop well and with a lot of enthusiasm," said Allegri at a press conference on Tuesday during the official launch of the Dubai Football Challenge.
"We have been training Dubai for the last four days and the team is in top condition. This match will provide us with the challenge we need to stay at the top of our league for the rest of the season, as playing a team as strong as PSG during winter break is an advantage for us over our Serie A competitors," he said.
"To be playing in a city with such great football enthusiasm will ensure an exciting match for everyone, including us," he added.
"Playing AC Milan here in Dubai for us and especially myself is a fantastic opportunity to start my new position. We are a strong squad and confident at the moment," said Ancelotti in a statement.
"It is a real pleasure to welcome both AC Milan and PSG to Dubai for the Dubai Football Challenge," said Hamad Mohammed bin Mejren, Executive Director Business Tourism at DTCM.
"The Dubai Football Challenge has grown over the years and this year's match-up will sure be an incredible line-up of star studded football for the UAE to watch," he added.
Ahmed Khoory, Emirates Senior Vice-President, Gulf, Middle East and Iran said: "This world-class match is a great way to kick off Dubai's 2012 sporting calendar and Emirates is proud to be a both a partner of the Dubai Football Challnege and the exisitng shirt sponsor for both AC Milan and PSG."
Tickets for the Dubai Football Challenge are on sale now and available at Virgin Megastores and online through ITP Tickets and all Virgin Mega Stores.
ALSO READ:
Follow Emirates 24|7 on Google News.