Wenger focusses on lifting Arsenal's spirits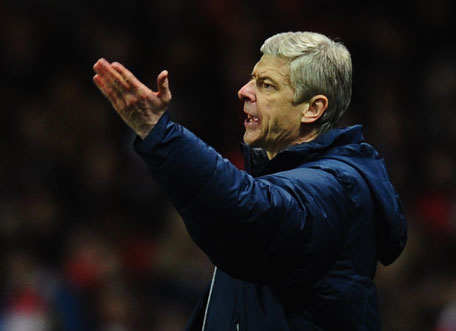 Arsene Wenger has shrugged off fresh criticism from the Arsenal faithful after their latest setback against Manchester United and insisted they were still in the running for a Champions League place.
The Gunners suffered a third league defeat on the trot but it was the decision to substitute Alex Oxlade-Chamberlain impressive on his first start in the Premier League that earned the wrath of fans at the Emirates who jeered for the first time in his Arsenal career.
But Wenger is refusing to take the criticism personally as he aims to lift the morale of the squad of Sunday's FA Cup clash against Aston Villa.
When asked about the jeers, he said: "I can live with that.

"I do not think about the fans' reaction, I think about how we can win our games.

"I will live forever by the values I think are right in football. One or two lost games, or one or two bad reactions will not change that.

"I always believe the fans' reaction depends on us.
"It is the team which has to get the fans behind them, and the fans have to be proud of the team. The vibes have to come from us.

"What was disappointing for me was that we produced a bad performance in the first half against United, but a decent performance in the second half and should have won.

"We did not deserve to lose. The team did not get the credit it deserved for the performance in the second half."

Wenger also maintains his squad have what it takes to finish the season in the top four, despite being five points off fourth-placed Chelsea.

He added: "The most important thing is that the player believes he is good and strong and that the manager believes in his players.

"I am convinced yes, but no matter who you are, if you lose one or two games your belief drops a little bit.

"It does not make you a bad player, you are still a great player, it was just a disappointing performance.

"That is a big difference between who you really are and what your last performance told you.

"I believe 100 per cent in this team, we will see where we stand at the end of the season."

The Frenchman expects "complete focus" against Villa on Sunday as they look to keep alive hopes of a first trophy since lifting the FA Cup in Cardiff in 2005.

He said: "If you look at Villa's team sheet they are a very good side, they can produce good results, especially away from home, because they are dangerous on counter-attacks."

Follow Emirates 24|7 on Google News.