Wenger hopes fightback will spark Arsenal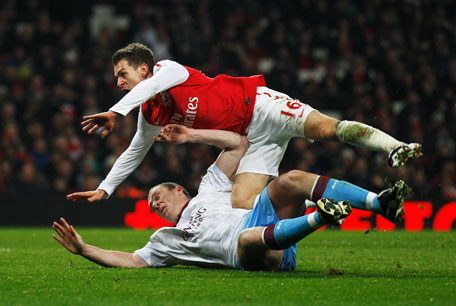 Arsene Wenger hopes Arsenal's epic fightback against Aston Villa in the FA Cup fourth round will act as a spark for his team's bid to qualify for the Champions League.
Wenger's men were heading for a shock exit at the Emirates Stadium on Sunday after Villa surged into a 2-0 lead by half-time thanks to goals from Richard Dunne and Darren Bent.
But the often frail Gunners finally showed some backbone as three goals in seven second half minutes - two Robin van Persie penalties sandwiching a fortunate Theo Walcott effort - clinched a dramatic 3-2 win which booked a fifth round trip to Sunderland or Middlesbrough.
Wenger admits morale among his squad has been at a low ebb after three successive defeats, so this was exactly the kind of spirited effort he was looking for.
And the French coach is hopeful this result will make his players believe they are good enough to overhaul fourth placed Chelsea - who are currently four points clear of Arsenal - and finish in the Premier League's top four.
"I hope it will convince the team we have the qualities needed and we can transfer that to the Premier League," Wenger said.
"When you don't win your belief goes. We lost our last three games in the Premier League so of course your belief is not there, regardless of your history.
"I was very impressed with the spirit. Coming from a bad period of results and being 2-0 down you can feel sorry for yourself, but the players were very positive at half-time.
"They didn't give up. I was very proud. They showed they weren't ready to lie down."
After being jeered by Arsenal's fans for replacing Alex Oxlade-Chamberlain with Andrey Arshavin during last weekend's defeat against Manchester United, Wenger coped more flak from the fuming Emirates faithful at half-time on Sunday.
Arsenal's second half revival gave Wenger some respite from the abuse, but he rejected the chance to hit back at his critics.
"I felt the fans were quite positive compared to last time!" he said. "I am sad we cannot always keep them happy. The only thing we can do is show this spirit.
"I just want to do well for this club that I love. I understand that people question my decisions. But I wouldn't understand if they question my commitment and dedication to the club."
Wenger also revealed he decided not to tear into his players at half-time because he didn't want to shatter their already fragile confidence levels.
"At half-time I said to them that it was a good test for us to show we have the mental qualities to come back," Wenger said.
"It was important we didn't panic because to concede just before half-time for 2-0 is a difficult blow.
"It was a classic English cup tie. We had to fight and we did it well.
"The second half was all us. It was important we pushed them back into their own half and we did that very well."
Meanwhile, Aston Villa boss Alex McLeish was left to rue his team's failure to press home their half-time advantage.
McLeish, who called on the FA to investigate an alleged elbow by van Persie on Carlos Cuellar, admitted Villa crumbled too easily in the face of Arsenal's second half pressure.
"It was a top-class performance from us in the first half, but maybe Arsenal scored too soon in the second half. It gave them a huge lift and we looked a bit leggy," McLeish said.
"It's never over. I said that to the boys at half-time. You know there are 45 minutes to go.
"To be fair, the players went right to the end and we could have had an equaliser. It wasn't to be and we have to learn from that.
"We have to learn that winning mentality. It was disappointing that we capitulated. It's a missed opportunity."

Follow Emirates 24|7 on Google News.