Wenger upbeat despite Arsenal slump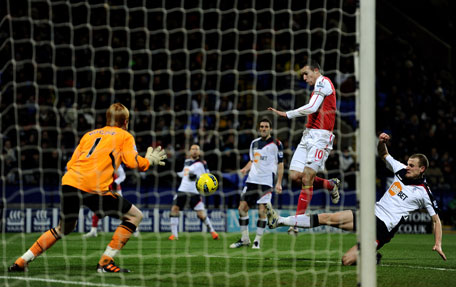 Arsene Wenger has insisted Arsenal can still finish in the top four of the Premier League and qualify for next season's Champions League, despite a disappointing goalless draw at Bolton.
But the Gunners boss said every match between now and the end of the season will be like a "cup final" for his side after Wednesday's setback.
Robin van Persie twice hit the woodwork as Arsenal wasted a host of chances against struggling Bolton, the draw at least ending a run of three consecutive defeats for the Gunners and ensuring Wenger did not lose four straight league games for the first time in his 16 years as the London club's manager.
The result left Arsenal in seventh place in the league and with the distraction of the FA Cup and Champions League to attend to in the coming weeks. However, Wenger was upbeat about their league prospects.
"Of course I am confident of a top four finish," he said.
"There is a long way to go. I'm confident we can come back. We have come through a difficult period. We lost three league games but could have won them as well," the Frenchman added.
"We are confident but I believe we have to produce our form game by game. For us, every game in the championship now is a cup final. We go into a period now playing in the FA Cup, playing in the Champions League and, combined, those three will be difficult.
"We feel we have dropped two points because we had chances to win the game. But I can't fault the effort, the commitment, the desire to win the game and on the positive side we haven't lost and haven't conceded a goal. Of course we have regrets because we didn't take chances."
And Wenger denied, despite evidence to the contrary, this was the most difficult period of his remarkable Arsenal career.
"We give our best in every game, that's what we did," said Wenger. "But that is always journalist talk. What you are most concerned about is the game you have just played now. You don't come in after the game and think, 'this is a difficult period we are going through'.
"We had more difficult periods even when we won championships. We did not win for six games. It's part of football. When you have lost three games like we did, when you don't lose the fourth game, it's always not too bad."
To complete a frustrating day for Wenger, Arsenal also announced England midfielder Jack Wilshere has a stress fracture in his foot and appears certain to miss the remainder of the season.
"You want your best players available," said Wenger. "When you go into February in the Champions League, the FA Cup and you want to come back into the top four, you want your best players available. Of course it's frustrating."
Bolton manager Owen Coyle, whose side are now two points above the relegation zone, was happy with his team's display, particularly that of in-form midfielder Mark Davies, whom he believes is in contention for a call-up to Fabio Capello's England squad.
"If Mark Davies continues to play like that it won't be long before Mr Capello comes to have a look at him," said Coyle.
"Mr Capello will be aware of his quality because he has seen enough of our games, but what Mark is doing now, he is doing it game in game out.
"We've all seen it tonight and he was even better (in Bolton's win) against Liverpool. If he can do it against the elite clubs, who's to say he can't do it for his country?"
Follow Emirates 24|7 on Google News.