Construction still hot for jobs in region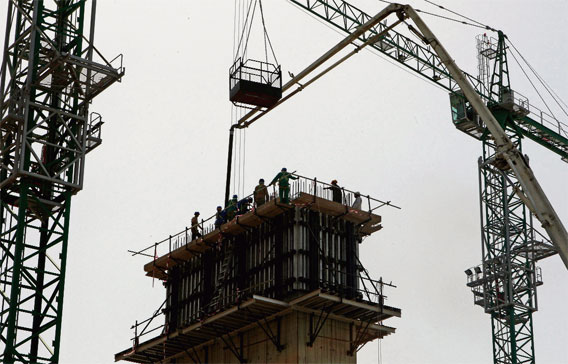 Even though construction has been one of the worst affected sectors of the economic slowdown, it continues to offer a significant number of jobs across the region.
According to an Emirates 24|7 analysis of the jobs posted for top growth sectors in the region, the construction sector comes only second to oil & gas in terms of the volume of jobs on offer.
Out of the 11,371 jobs posted on NaukriGulf.com, Bayt.com and GulfTalent.com, 2,933 jobs were posted under the category of oil and gas. Construction firms, on the other hand, were seeking to fill 2,476 vacancies.
Amer Zureikat, VP sales at Bayt.com, a job search portal, believes that despite the hit taken by the sector, immediate future looks bright for those in the industry. "The construction sector has historically built a solid 'brand' in the Middle East as being an industry that is capable of attracting and retaining top talent from both locally and overseas," he told Emirates 24|7.
"We have seen that even while companies in this sector have downsized in recent years, much world-class top pedigree talent was retained and replacement talent for strategically key positions was hired with very top requirements and expectations," he added.
"As far as salaries are concerned, [our] salary survey shows that the construction industry is still amongst the highest paying industries in the region. The pay raises for the past year may not have been what professionals really were aiming at (7.7 per cent) but hopes are high for [2011] with an expected salary raise of 12.1 per cent," commented Zureikat.
Other sectors like banking and financial services offered 1,330 jobs on these three website, followed by retail with 1,228 jobs and manufacturing at 637 jobs. Surprisingly, healthcare, a defensive sector and with good growth prospects in the region offers only 609 jobs in comparison.
Follow Emirates 24|7 on Google News.