Dubai's first 'economical homes' to be delivered next year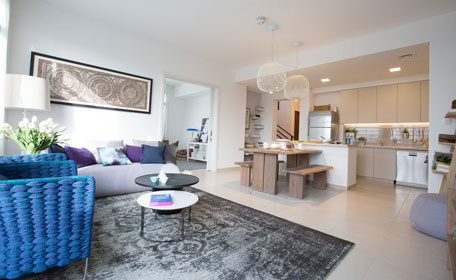 Dubai-based Nshama is on schedule to deliver the first homes in its Town Square development in 2017.
"We have commenced work on 1,050 townhouses and 1,100 apartments along with infrastructure work. We have awarded contracts worth Dh2 billion to date," Fred Durie, Chief Executive Officer, Nshama, told Emirates 24|7, during the site tour of the project.
Launched in 2015, the project targets middle-income individuals/families with incomes of Dh25,000 to Dh30,000 a month. Over 2,000 units have been sold to date.
Citing a report by property constants JLL in 2014, Durie said: "There is a shortage of around 114,000 units and we are hoping to fill that shortage. Everything here in Town Square is for middle income... so we are trying to get people to move from rental mode to owning and if they stay at least 5 to 10 years then they have an asset that they can sell rather than just spent money on rent."
# Competition?
Asked if the company was facing tough competition from other affordable housing projects, he asserted that they were no worried about competition.
"Our price is still the best in the market and we are giving not only a home, but a lifestyle. A lot of people are doing villas, but we are giving great lifestyle, great amenities for less than Dh1 million for a townhouse. And so we are not worried."
# New payment plan
Nshama is looking at launching a new flexible payment plan that could help buyers save on their rent.
"We will announce that in the coming weeks when we do the next launch," the CEO said.
Three bed and four bed townhouses range between Dh1 and Dh1.35 million, while one to three bedroom apartments are priced between Dh614,888 and Dh1 million.
# Contracts awarded
According to the developer, the first contracts awarded was for undertaking grading works for the entire 750-acre (31 million square feet) development to Al Naboodah Contracting Co, while the deep services work is being undertaken by Binladin Contracting Group.
Post the launch of the Zahra and Hayat townhouses, Beaver Gulf Group was awarded the contract with Emaar District Cooling named as the sole provider of district cooling services for 30 years.
Al Dharis SPF has been awarded the contract for the design, construction and supply of liquefied petroleum gas for the residential units. The project work includes the supply of cooking gas to over 18,000 apartments and more than 3,000 town houses, over 100 buildings including a hotel complex.
The total daily requirement is expected to be about 30,000 litres of LPG. The design includes the construction of two underground tanks of 50,000 litre capacity and over 35 kilometres of underground piping.
# Lifestyle
The project is anchored by a central square (size equivalent to 16 football fields), a Vida Town Square Dubai hotel, a Reel Cinemas cineplex and open-air cinema. There will be over 600 stores and F&B outlets, green trails, outdoors sports courts and cycling tracks, among other amenities.
The development is located close to the Arabian Ranches Golf Course, Dubai Polo & Equestrian Club and Al Maktoum International Airport.
Follow Emirates 24|7 on Google News.