Is Dubai property looking north?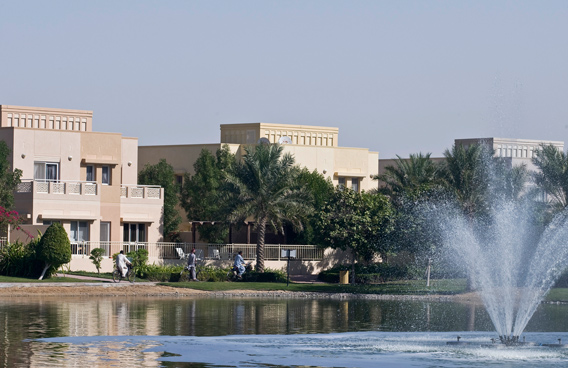 Residential property prices in Dubai are showing signs of stabilization and in some good localities in the city prices are already going up, albeit in a more rational manner.
Prices of villas have shown a marginal appreciation, according to latest classified postings. Many real estate agents and landlords had posted their two-bedroom villa in Springs for Dh900,000 in the last quarter of 2010. Today, the same villa is being tagged at nothing less than Dh975,000 and goes up to Dh1.35 million. The average asking rate today is Dh1 million.
Just about a month back, a typical three-bedroom middle unit villa in the same community was going for Dh1.3 million and classifieds had many such listings. But within a span of one month the same property is going for at least 1.35 million, as per the listings on popular classified website, dubizzle.com.
A two-bedroom unit in Green Community in the last quarter of 2010 was going approximately for Dh1 million. Today, classifieds show that the same kind of psroperty is being advertised for Dh1.2 million, with only a few exceptions that are being priced lower.
However, this price rise is limited to some areas. Certain good residential communities still continue to witness declines. For example, a typical two-bedroom unit in Greens was available for Dh800,000 in Q4 of last year. Today, a similar unit can be bought for Dh760,000.
According to real estate experts, the Dubai property market is showing early signs of revival after two very lull years. "The market has settled and shows great improvement for the rest of 2011. The banks are coming in with some good rates for expats and good repayment plans which will see more people buying," Laura Adams, Manager, Residental Sales & Leasing, Head Office at Better Homes told Emirates 24|7.
Experts at Jones Lang LaSalle say that the gap between the asking price and the achieved price remains stable compared to the major falls recorded in 2009, indicating a stabilization in the property market.
UAE property management company, Asteco states that apartment sale prices show continuing signs of stability, with prices having eased by 1% in the sector during the first quarter of 2011, with the decline slowing further from the 4% seen in Q4 2010.
"The Dubai property sector is a dynamic market, with different areas and qualities catering to the various sectors of the market. While sales price trends for the last quarter were down, the decline is continuing to slow, as in previous months," said a report issued by the company.
"Transaction activity is on the rise, and as sentiment increases this will continue, with returning stability also aided by finance becoming more readily available." While further minimal declines expected, Asteco indicates improvements should be seen as improving economic prospects increase finance availability and down payments become more affordable.
Follow Emirates 24|7 on Google News.