Aldar says not to delist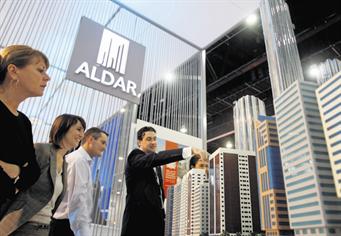 Aldar Properties has no plans to delist its stock after investors asked for clarification of its capital raising plans announced last week when the Abu Dhabi government threw it a $5.2 billion lifeline.
Abu Dhabi stepped in to support the struggling developer last Thursday, agreeing to buy some of its key assets and subscribing to a bond sale.
Aldar will issue Dh2.8 billion in convertible bonds to Mubadala, the Abu Dhabi investment fund, after shareholders approve the plan. The bonds will mature on or about December 15 with a coupon rate of 4 per cent.
An additional Dh700 million in debt could be issued within the next five years but the company has no intention to issue the debt in the short-term.
The property developer added that the conversion price of its 2008 Mubadala bond will be Dh11.73 per share and any Islamic bond certificates from a 2007 issue that have not been converted yet will be redeemed at a nominal value.
Aldar said last week that it would sell assets worth $1.49 billion to the government to meet looming debt obligations. It will also raise $2.97 billion through sales and reimbursements for some of its key assets including its glitzy Ferrari World theme park.
But in Wednesday's statement, the company clarified that the assets sales, which include land and residential units at Al Raha beach, will exclude its Yas Hotel development.
In a call with investors earlier this week, Aldar's chief financial officer said the troubled company expects to post a profit in 2011 and going forward.
On Tuesday, Moody's placed Aldar's ratings on review with direction uncertain. S&P said it was revising CreditWatch implications on its ratings to developing from negative, based on its announcements of asset sales and capital raising.
A government rescue for Aldar had been seen as a likely option by analysts since the property crash left the market with few private players willing to buy the developer's assets.
Follow Emirates 24|7 on Google News.