Better times ahead for Dubai's realty market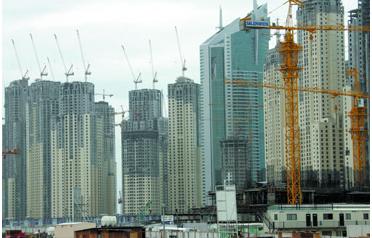 Re-emergence of key lenders such as Tamweel in the market is bolstering investor confidence in Dubai's property market, while migration, albeit slow, of large multinational firms signals "better time ahead", says an international real estate consultancy.
"Mortgage lenders are now offering attractive rates to credit-worthy clients wishing to purchase quality stock. With the re-emergence of Tamweel, as well as a number of keylenders in the market, investor confidence has been bolstered within specific locations and developments," Cluttons Middle East said in its fourth quarter 2010 report on Dubai.
"Lenders have become shrewder as to the developments on which they choose to lend, including stricter criteria based on the developer's reputation, specification and location."
Tamweel, the Islamic home mortgage, is receiving adequate funding from Dubai IslamicBank (DIB) to support its business growth, as it focuses on booking high-quality portfolio of select customers and properties, company's interim CEO Varun Sood told Emirates 24/7 in November.
In contrast, a UAE Central Bank data reveals that mortgages offered by the country's banks grew by a mere Dh4.16 billion, or 2.6 per cent, between June and October 2010.
Clutton believes the recent announcement by Merck Serono, a pharmaceutical giant, to relocate its intercontinental offices from Geneva to Dubai is a signal of "better times ahead."
"This is an encouraging sign, as Dubai's affordability starts to make an impact. The key to medium term success is focusing on quality property maintenance and fostering the tenant-client relationship through a flexible approach to leasing," the report said.
Commercial rents have fallen on average 11 per cent in the fourth quarter against the third quarter of 2010, the consultancy said, adding Dubai International Financial Centre and TECOM (A & B) were the only two areas unaffected by price reductions. Rents fell by 16 per cent in Jumeirah Lakes Towers (JLT), Sheikh Zayed Road, Al Barsha, Tecom C, Dubai Silicon Oasis (DSO).
Office space in Dubai will double to 80 million square feet by beginning of 2015 from 41 million square feet in early 2010, Landmark Advisory had told Emirates 24/7.
According to Jones Lang LaSalle, Dubai is the fastest growing office market in the world on a per capita basis, with the total area of occupied Grade A quality office space increasing by 2.8 square feet per capita since the beginning of 2008.
Clutton reports added that the on-going construction and completion of commercial projects within JLT, Tecom C, Business Bay and DSO throughout 2010 has placed downward pressure on rents within most areas of the city.
"The fall in office rents will continue unabated as long as new supply continues to be introduced."
Longer rent free periods
Landlords have startedoffered longer rent-free periods with commercial leases extending from three to five years. Moreover, they are also willing to incentivise agents by paying agency fees.
"These are positive changes in the marketplace which are demonstrating to potential tenants that landlords understand the need to be proactive and flexible in structuring lease terms, particularly when the drive for these tenants to relocate premises is based on cost savings," Cluttons said.
Although sales volumes improved since the last quarter, transactions are still slow while prices have continued to decrease around eight to nine per cent quarter-on-quarter. Sale prices dropped 2.4 per cent for apartments and 5.1 per cent for villas in the fourth quarter.
Average rental rates fell by 3.3 per cent for apartments and 3.2 per cent for villas while "flight to quality" continues in both the sales and rental markets, citing affordability.
HC Brokerage said recently rents appeared to have stabilised in 2010, and fell merely three per cent against 37 per cent in 2009. Landmark Advisory estimates 48,000 new homes due to come on to the market in the next two years.
Abu Dhabi market on decline
Meanwhile, Abu Dhabi continued to experience a downward pressure on commercial and residential rental prices throughout the summer months, the report said.
Rental rates have seen an average decline of 16 per cent in the lower sector of the market, in areas such as Mohammed Bin Zayed City. The higher end of the rental market towards the northern areas of Abu Dhabi Island fell eight per cent from the third quarter. The freehold villa values in developments such as Al Reef have seen a continuation of falling capital values of up to 12 per cent.
"Average rental rates have continued to drop for a fourth consecutive quarter as newer stock feeds the market which promises to balance out demand. The handover of hundreds of units in Marina Square is still awaited, with predictions that owners will not be able to gain access until second quarter 2011," Cluttons added.
Separately, Asteco in a report released today, said rental levels in Abu Dhabi continued to decline with mixed fortunes for landlords depending on location, quality and price in the fourth quarter.
Apartment leasing rates declined by an average of seven per cent whereas on-island properties have reduced by six per cent. A number of factors such as price-driven demand, reduced company housing allowances and landlords beingflexible with rates, have contributed to the decline.
Elaine Jones, CEO, Asteco Property Management said, "Many new opportunities will arise in 2011. Buyers and tenants will have a wide range of choices shortly, as the long-awaited first phases at Reem Island come on to the market, together with new supply at Al Raha Beach. This will undoubtedly add further downward pressure on resale and rental rates throughout the capital moving forward."
In contrast although villa rents have declined on average by five per cent, those properties in master-planned communities with good facilities have managed to out-perform the market, recording modest increases of four per cent compared with the third quarter 2010.
Follow Emirates 24|7 on Google News.