Hong Kong office space priciest in world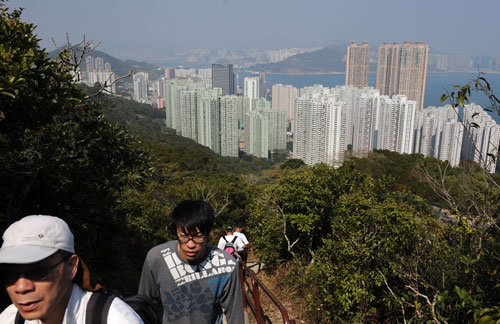 Hong Kong became the world's most expensive place to rent office space last year, a study has found, despite government efforts to cool the surging property market and avoid a bubble.
"Fuelled by the economic recovery, Hong Kong entered 2011 as the most expensive office location in the world," said property consultant DTZ in its annual report on global office occupancy costs.
The average price of office property per workstation rose by almost a third from a year earlier in Hong Kong to $22,330, surpassing the 2009 leader, London's West End, the report said.
The soaring cost of property in Hong Kong has become a major cause of complaint for the southern Chinese city's seven million residents.
Worries about a property bubble have prompted officials to announce a series of measures to cool the market, including boosting land supply, new stamp duties to keep out speculators and tightening mortgage lending.
Last year, a 79th floor office unit in The Center - a downtown skyscraper owned by Hong Kong's richest man, Li Ka-shing - sold for HK$338 million ($44 million), or about HK$25,580 a square foot.
Office costs in the city's prime districts rose 31 per cent year-on-year from $16,970 in 2009, outstripping the rest of the Asia-Pacific region and the world amid strong demand and limited supply, the report said.
"We forecast that Hong Kong will continue to outpace other markets in the region, with the gap between it and other centres widening," David Green-Morgan, head of Asia-Pacific research at DTZ said in a statement.
Average workstation costs in London's West End were $20,160 a year, while Geneva came in third at $18,840, Tokyo fourth at $17,400 and Zurich fifth at $16,700.
Surabaya in Indonesia was the cheapest place to rent last year, while the Chinese cities of Shenyang, Qingdao and Dalian were also among the least expensive places surveyed.
Looking ahead, DTZ said global average occupancy costs would increase 2.5 per cent annually, with the strongest growth in the Asia-Pacific, at 3.7 per cent.
It forecast Hong Kong office prices to jump to $31,520 by 2015.
The survey includes within occupancy costs rent, maintenance costs and property tax.
Total occupancy cost per workstation is defined as the price of an office unit divided by the number of occupants.
The survey compared office rents in 121 business districts across 47 territories around the globe.
Follow Emirates 24|7 on Google News.