World's tallest residential tower will be ready next year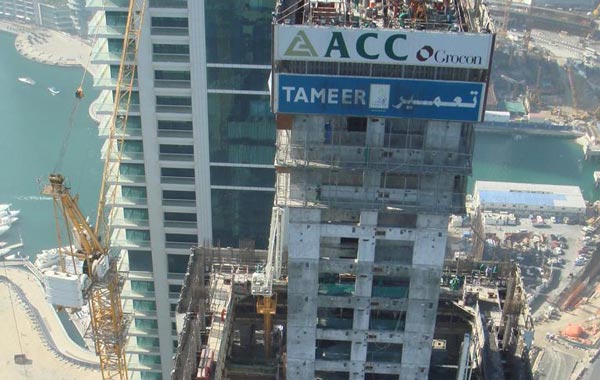 The 107-storey Princess Tower in Dubai Marina, billed to be the tallest residential tower in the world, will be ready for delivery by fourth quarter of 2011, Emirates 24|7 can reveal.
In the same quarter, the 91-storey Elite Residence in Dubai Marina will also be completed and ready for handover, claims Tameer Holding, the developer behind the two towers.
"We are planning the handover of the 414-meter PrincessTower (763 units) and 381-metre Elite Residence (696 units) in Dubai Marina, and Imperial Residence (510 units) in Jumeirah Village South by the fourth quarter of 2011," company President Federico Tauber told this website.
According to Council on Tall Buildings and Urban Habitat, Q1, located on the Gold Coast, Australia, is the tallest residential building in the world, standing 323-metre high with 78 floors.
The Dubai-based developer will hand over the 31-storey Silver Tower (350,000 square feet) in Business Bay and 180-unit Al Jawzaa Tower in International City by year-end. The first quarter of 2011 will see the developer delivering the 32-storey Regal Tower (400,000 square feet) in Business Bay.
"Over 2,100 residential units and 750,000 square feet of commercial space will behanded over by us by end 2011-end," he added.
Although Tameer has been recording sales in its Palace Tower project in Dubai Silicon Oasis and the two Dubai Marina projects this year, Tauber said the company has reduced selling prices in some projects by almost 50 per cent compared to last year.
"Palace Towers is selling very well and so are our Dubai Marina projects. A lot of inquiries are there for Business Bay, but demand for residential is stronger today."
In a bid to sell it projects to overseas investors, Tameer is now focusing on markets such as China, Nigeria and Russia.
"We need to be effective in tapping new markets such as Nigeria, China and Russia. In the next three months, we will have presence in these markets."
This website had reported in November that Russians, Chinese and Nigerians have bought properties worth Dh746 million, Dh588 million and Dh123 million, respectively, in the first eight months of 2010.
Asked if Tameer plans to launch any of the stalled local, regional or international projects, Tauber said they are currently focusing on delivering the existing projects.
"The Dubai market will still take some time to adjust and so we are not planning to launch anything… we don't see yet the motivation for a developer to launch a new project. We have seven projects and will be happy to deliver them."
Tameer is among the few developers in the UAE who is encouraging formation of owner associations (OAs) since it has no plans to continue managing its projects.
"We are encouraging formation of OAs or else we have to manage these buildings… our aim is not to make a business out of the management of services," he added.

Follow Emirates 24|7 on Google News.