Public transport users seek more dedicated lanes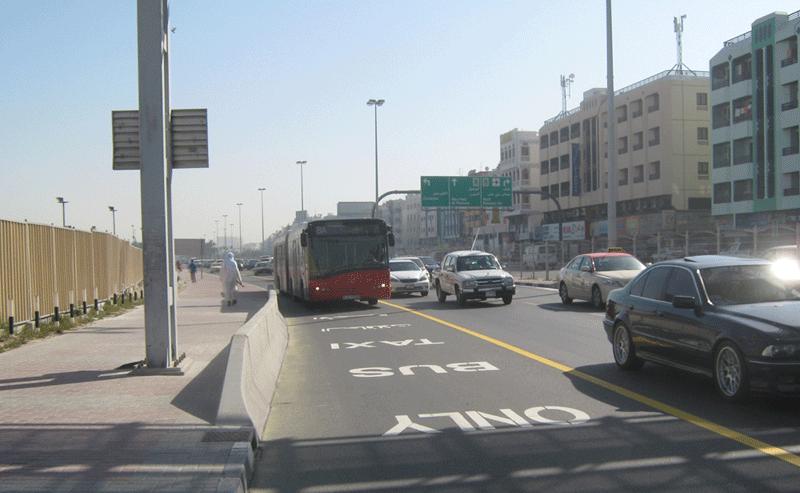 A recent survey of Roads and Transport Authority (RTA) revealed that 77 per cent of public transport users in Dubai favoured widening the scope of dedicated lanes for buses and taxis scheme to cover more streets, over and above Al Mankhool, Al Khaleej, Khalid bin Al Waleed and Al Ghubaiba streets, which saw the debut of the scheme in mid May.
"Dedicated bus lanes scheme has achieved high satisfaction among the public over the last few months; giving an indicator of its ability to attract more community members to use public transport modes and thus serve the ultimate objective of the scheme. The scheme also contributes to increasing the traffic capacity of the concerned streets, slashing the journey time, and enhancing the integration between various public transport modes, including mass transit systems; which all add to the realization of RTA strategic objective of increasing the share of public transport to 30 per cent by 2020," said Maitha bin Udai, CEO of RTA Traffic and Roads Agency.
"Since inauguration, we have been monitoring the efficiency of the scheme in serving the objectives for which it was introduced. A survey was carried out in the first half of July last covering 1,053 respondents and the results proved that the scheme was starting to pay dividends," she added.
Among public transport users, 77 per cent wished the scheme to cover other streets in Dubai, 75 per cent stated that the scheme helped shorten the journey time, 76 per cent believed that the scheme would be an attractive element for using mass transport, and 74 per cent expressed their satisfaction with the awareness campaigns of the scheme.
"The initial results of the questionnaire prompt the RTA to open other phases of the dedicated lanes for buses and taxis scheme after conducting comprehensive studies of each phase to assess its impact on the roads network of each district."
"The project received a welcome sign from public bus drivers as 86.4 per cent of them expressed their satisfaction with the impact of the project in shortening the journey time, 87 per cent said that the scheme would boost public transport ridership, and 88.4 per cent wished the scheme to be expanded to cover new streets and districts in Dubai, besides those opened last May," she added.
She further stated that the awareness campaigns of the scheme would target all road users, particularly private motorists where 44 per cent of them said that they knew nothing about the Dedicated Lanes scheme, and were also unaware of the prescribed misuse fine amounting to Dh600.
"RTA has therefore prepared an educative brochure to be distributed widely to cover the largest possible numbers of community members. The brochure includes the objectives of the scheme, the four roads covered under the initial phase, and the enforcement measures coordinated between the RTA and Dubai Police."
Follow Emirates 24|7 on Google News.