Ramadan night market at Dubai Festival City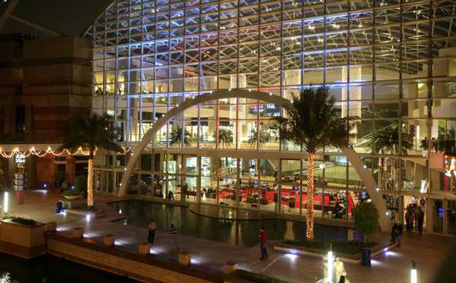 The Department of Economic Development (DED) announced the opening of the 'Sirage Exhibition,' a Ramadan charity bazaar, being held June 16-21 at the Dubai Festival City Mall.
The exhibition features over 50 kiosks displaying and selling a variety of goods and products from the members of Dubai SME and Dubai Exports – both DED agencies, mandated to develop the small and medium enterprise (SME) sector and exports respectively – as well as the Dubai Centre for Special Needs, Community Development Authority, Ministry of Social Affairs and the Khalifa Bin Zayed Al Nahyan Foundation. The exhibition is open from 9 pm to 12 am on all days.
The exhibition is part of 'Sirage' initiative, the first cycle of which will support the 'Reading Nation' campaign of His Highness Sheikh Mohammed Bin Rashid Al Maktoum, UAE Vice President and Prime Minister and Ruler of Dubai, aimed to provide five million books to children in need worldwide.
His Excellency Sami Al Qamzi, Director General of DED, said after touring the exhibition along with Tariq Al Gurg, Chief Executive Officer of Dubai Cares, and senior officials from DED and its agencies that the event has been launched in support of the vision of the UAE leadership to expand humanitarian work locally and globally.
"The 'Sirage' initiative also reaffirms our commitment to promoting all SMEs, manufacturers and exporters within the local business community and motivating them to join social and humanitarian agencies in the country in the good deeds being carried out during the month of Ramadan," Al Qamzi added.
All proceeds from the exhibition as well as the 'Sirage Gala Dinner' will go into the 'Reading Nation' campaign, Al Qamzi said. "The initiative translates the aspirations of our leadership to see the public and private sectors working together to fulfill their social responsibility and commitment towards humanity. The Sirage programme will be held annually and each year it will support initiatives launched by the UAE leadership."
The exhibition features diverse goods, particularly those related to the month of Ramadan and Eid, including handcrafted and heritage products, perfumes, clothes, souvenirs and specialised products of exporting companies. The support of social and humanitarian agencies have ensured participation of a number of community-oriented and charitable initiatives in the event.
A special kiosk has also been opened to educate consumers on their rights and responsibilities as well as on policies governing the processes of buying and selling. Visitors during the exhibition will receive informative brochures on consumer rights from the kiosk and can give their suggestions to improve the consumer protection environment.
Follow Emirates 24|7 on Google News.