Retail space at Palm on offer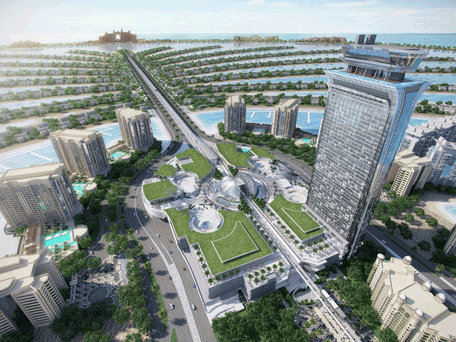 Dubai developer Nakheel has begun leasing at The Pointe, its new, Dh800 million, 136,000 square metre retail, dining and entertainment complex on Palm Jumeirah.
The news comes a week after Nakheel signed a contract for Dh375 million with Gulf Technical Construction Company for the construction of The Pointe, which is at the tip of Palm Jumeirah, across the bay from Atlantis. Around 130 opportunities for shops, restaurants and cafes are available.
Due for completion in 2016, The Pointe is accessible via The Palm Monorail – soon to be connected to Dubai's mainland tram system – and by boat from the island's growing number of hotels and resorts. There is also a car park with 1,600 spaces.
The project, with a spectacular fountain display as its centrepiece, is one of several new Nakheel developments underway at Palm Jumeirah. Others include Nakheel Mall, The Palm Tower, The Boardwalk and Palm West Beach.
Last week, Nakheel began leasing at its new community retail centre at Al Furjan in Dubai, with 70 per cent of available space already booked. Other developments in the company's growing retail portfolio include the Nakheel Mall, Ibn Battuta Mall and Dragon Mart Mall, as well as neighbourhood retail centres at Jumeirah Park, Discovery Gardens and International City.
Big appetite for space at Nakheel retail projects
Restaurants and retailers are hungry for space at Nakheel's new malls and community centres, with 160 bookings confirmed at of the developer's upcoming retail projects, the company announced today (Wednesday).
More than 70 per cent of space at Nakheel's 10,000 square metre community centre at Al Furjan – launched for lease less than two weeks ago – is already taken, while 55 per cent of Nakheel's International City neighbourhood mall is booked.
In addition, 120 retailers have staked their claim on Nakheel Mall – a new, 418,000 sqm retail, dining and entertainment complex on Palm Jumeirah – accounting for 40 per cent of available retail space at the island's new centrepiece.
A Nakheel spokesman said: "Our upcoming projects – be they local community centres or world class malls – will boost Dubai's economy by creating jobs in the construction, retail, hospitality and the food and beverage sectors. In turn, this will support Dubai's tourism industry and contribute to the government's tourism vision for 2020."
Nakheel's growing retail portfolio also includes The Pointe at Palm Jumeirah, a 136,000 sqm waterfront shopping and dining complex, open for lease this week; a mall and night market at Deira Islands; Dragon Mart Mall and Ibn Battuta Mall, both of which are undergoing significant expansion; and neighbourhood centres in Jumeirah Park and Discovery Gardens.
Follow Emirates 24|7 on Google News.