Review: 'Inkaar' fails to turn into gripping film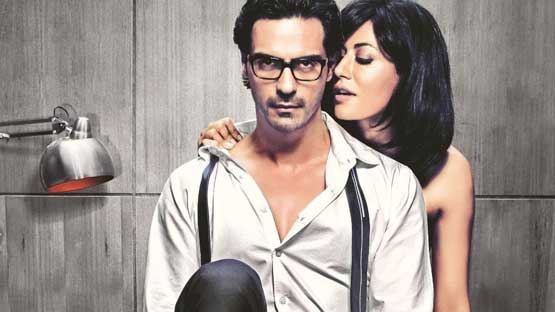 "There's a thin line between flirtation and harassment," stresses Rahul Verma, the male protagonist of Sudhir Mishra's sexual drama 'Inkaar'.
And his confusion is further reiterated over the next two-hours, as a panel sit in a stuffy conference room and struggle to identify whether Rahul did sexually harass his colleague Maya Luthra.
He's the head honcho of a prestigious advertising firm, and she's his prodigy, who fast-tracked up the ranks.
The group of company loyalists and an independent judge try to uncover the truth behind the allegations, as they quiz Maya and Rahul.
Was it Maya's overambitious desires that make her trap Rahul in a false case? Or, was he indulging in dirty mind games to take revenge for being sidelined by a gorgeous junior?
Was his "friendliness" just misconstrued as something more sinful? Or, was the bitter blame-game just an outcome of a broken love story?
The answers are revealed through a scattered screenplay that shifts between the present and the past.
But even as the suave marketing wizards dodge a barrage of questions, and allow their past to come alive, it just further muddles the situation.
At one point, Maya appears to be extremely genuine, but at another Rahul does. "Hell has no fury like a woman scorned," reasons a Rahul-supporter, adding that it's her greed for power that forced her to create a fake case. But, an exhausted Kamdhar is unwilling to buy into that theory.
"Each is justified in their own reasoning and interpretation," admits a defeated Kamdhar, who accepts her failing at solving the case after probing for two days.
Just like the board, even the audience is torn between the two.
"It's easier to prove rape than sexual harassment," announces a lady lawyer, much later, and that is precisely what director Sudhir Mishra proves ably.
He etches out the complexities of each character delicately, giving them ample scope to grow and introspect, and thus allowing them to defend their own truth.
Cinematographer Sachin Krishn impressively captures Maya and Rahul's insecurities and inner demons in striking frames. Even the glitz and glam of the corporate world are portrayed in glossy shades.
Writer Manoj Tyagi creates the perfect atmosphere for Mishra's sensational tale with the right choice of words, ensuring he doesn't turn Maya and Rahul into overtly dramatic Bollywood clones.
Arjun Rampal is unbelievably imposing as the charismatic Rahul Verma. He proves, beyond doubt, that there's more to him than a chiselled chin and striking magnetism. He inarguably owns Rahul. From his delightful flirtations to his imposing business strategies, to his reticence to give up his career, Arjun layers Rahul with impeccable flair.
Chitrangada Singh matches up with an ambitious act as the fiery Maya, who is unwilling to give up without a good fight. She's effortlessly gorgeous, and Maya benefits from it.
Deepti Naval as the outsider Kamdhar is impressive, but her character isn't allowed to do much in a restrictive script.
Everything is in sync with 'Inkaar' but for Mishra's hurried end. He creates an incredible build-up but is unable to follow it up with a relevant climax.
It's a slip-up, most noble filmmakers are guilty of, but after having invested so much in Maya and Rahul, it's unforgivable that they weren't given a more befitting reality.
After creating cinematic brilliance like 'Hazaaron Khwaishein Aisi' and 'Is Raat Ki Subah Nahin', this one isn't up to the mark.
Follow Emirates 24|7 on Google News.