Russian Soviet-era poet Yevgeny Yevtushenko dies at 84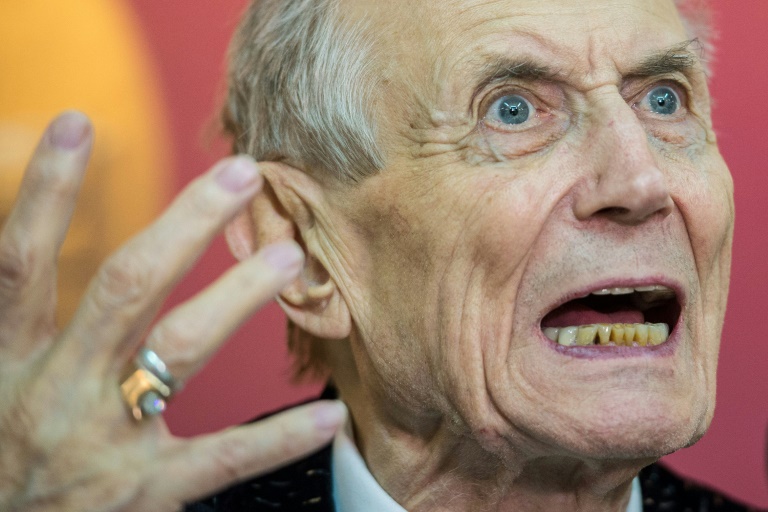 Yevgeny Yevtushenko, a Russian Soviet-era poet who found a large following in the West in the 1960s, died on Saturday of heart failure in the United States at the age of 84, Russian news agency RIA Novosti said.
"He died peacefully a few minutes ago, surrounded by his loved ones," the agency quoted his wife, Maria Novikova, as saying.
Yevtushenko shot to fame as a symbol of non-conformism during a brief artistic thaw in the early 1960s under party boss Nikita Khrushchev.
To the dismay of liberals, he then became a loyal supporter of the regime and was showered with state privileges until the fall of the Soviet Union in 1991.
His best-known work is "Babi Yar," an epic poem published in 1961, about a Nazi atrocity in Kiev in 1941 in which tens of thousands of Jews were massacred.
His attacks on Stalinism and Soviet bureaucracy, culminating in "The Heirs of Stalin" (1962), together with his demands for greater artistic freedom, were tacitly sanctioned by the Communist Party and he was allowed to travel widely abroad, where he read to enthusiastic audiences.
But in the 1970s, to the distress of his admirers, his reputation was tarnished by growing party orthodoxy, punctuated by sporadic defence of beleaguered dissident author Alexander Solzhenitsyn.
Yevtushenko was born in Siberia at Zima, near Irkutsk, in 1933, a fourth-generation descendant of Ukrainian exiles.
He studied literature from 1951 to 1954 at the Gorky Institute in Moscow, and began turning out lyric verse clearly influenced by the revolutionary writer Vladimir Mayakovsky. He published his first poems at the age of 20.
- 'Poems echoed in hearts' -
"Yevtushenko was a legend... who lived according to his own formula: a poet in Russia is more than a poet," Solzhenitsyn's widow, Natalia, told Rossiya-24 public television.
"He influenced the time in which he lived, he changed many things," Zoya Boguslavskaya, the widow of another celebrated Soviet Russian poet of the 1960s, Andrei Voznesensky, was quoted as saying by the official news agency TASS.
Russian President Vladimir Putin expressed his condolences to Yevtushenko's family, Kremlin spokesman Dmitry Peskov said.
"Yevtushenko was a great poet. His heritage is an integral part of Russian culture," Peskov said, quoted by RIA Novosti.
"His poems echoed in the hearts of millions of people," the Soviet Union's last president, Mikhail Gorbachev, said.
"(He was) a man who cared for the fate of his country and for the whole world, who believed in goodness and sought justice."
In the mid-1990s, Yevtushenko moved to the United States, where he taught at the University of Tulsa, Oklahoma.
Shortly after he was hospitalised this week, Yevtushenko had expressed the wish of being interred in Peredelkino, the former writers' colony near Moscow.
He asked to be buried "close to the tomb of Boris Pasternak," according to Sergei Vinnikov, who had been preparing a poetry festival in Russia this summer to celebrate Yevtushenko's 85th birthday.
Pasternak, a fellow author of the Khrushchev thaw acclaimed for "Doctor Zhivago," was awarded the 1958 Nobel Prize in Literature. He was forced by the Soviet authorities to decline the honour.
Follow Emirates 24|7 on Google News.