Australia offers women big pay rise in bid to end row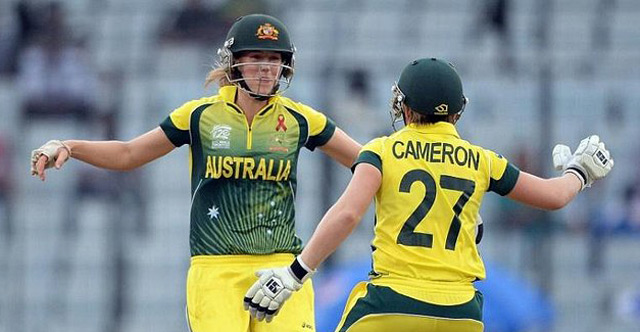 Cricket Australia offered to more than double elite women players' pay and also promised an increase for the men in a bid to end an impasse over money Tuesday.
The body said the package meant women had the opportunity to pursue a fully professional career at both international and domestic levels, while men would continue to be among the country's best paid sport stars.
CA chief James Sutherland said the proposed five-year Memorandum of Understanding, put forward as negotiations continue before the current deal expires at the end of June, had "gender equity at its heart".
But the Australian Cricketers Association (ACA), the players union, said the offer needed closer scrutiny.
"We are pleased that the Australian Cricketers Association agrees with us that women, for the first time, should be part of the MOU, and we have proposed a financial model that has gender equity at its heart," Sutherland said.
"Under the proposal, women will receive an immediate average pay increase of more than 125 percent."
This would see international women cricketers' pay jump from Aus$79,000 (US$60,885) to Aus$179,000 as of July 1 this year, with an expectation that it will rise to Aus$210,000 by 2021.
CA said total potential remuneration for all players, including guaranteed and performance elements, would go up from Aus$311 million over the course of the current MOU (2012-17) to Aus$419m over the next five-year period, an increase of 35 percent.
Men who represent Australia at international level would see their average yearly retainer rise to Aus$816,000 by 2021/22.
With match fees and performance bonuses, the expected average income for these players - including Big Bash League Twenty20 payments - would soar 25 percent to Aus$1.45m by 2021/2022, said Sutherland.
"We have placed the emphasis on increasing the guaranteed amount that the men will receive, rather than rely on any projected increase in revenue," he added.
"This is a landmark agreement. We are now looking forward to sitting down with the ACA to work through the details and we are confident we will be able to announce a completed agreement before June 30."
However, the ACA said there was a lack of detail in CA's proposals and that the offer needed further study.
"The way in which these changes will be both funded and embedded in the MOU does require much closer scrutiny," it said in a statement.
"There is a lot of fine print to examine and a lot more forecast information still needed by the players."
Follow Emirates 24|7 on Google News.