Bangladesh hopes Sri Lanka win will bring more Tests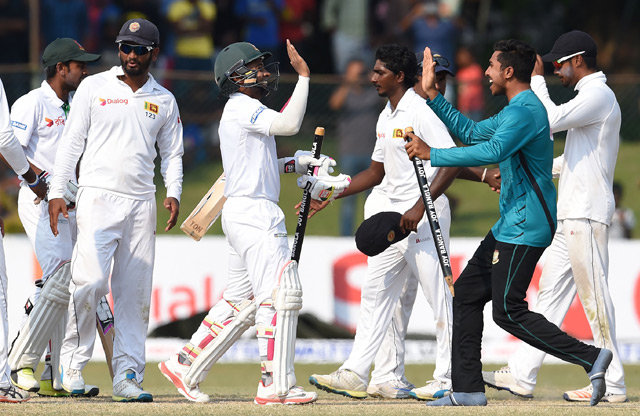 Bangladesh's historic Test victory in Sri Lanka should encourage more teams to find space in their schedules to play the fast-improving minnows, according to the head of the country's cricket board.
In their 100th Test, Bangladesh beat Rangana Herath's men by four wickets in Colombo on Sunday -- their first victory away from home against top-class opponents.
Bangladesh's only other victories on foreign soil since gaining Test status in 2000 came against fellow strugglers Zimbabwe, and a West Indies side which had been weakened by a strike among their main players.
Sunday's win has stoked hopes that Bangladesh are now finally becoming a force to be reckoned with after they beat England for the first time in a five-day match in October.
Their lack of success has been one of the reasons major cricketing nations have been reluctant to schedule matches against Bangladesh, with last month's one-off Test in Hyderabad their first ever match in India.
Their only tour of Australia was also way back in 2003, but Bangladesh Cricket Board president Nazmul Hassan told reporters that the victory in Colombo could mark a sea-change in attitudes and that more matches with Test teams were already being pencilled in.
"There is no doubt that every team will show their keen interest to play with us, way more than it has been in the past," Hassan said late Monday.
"They will field their full strength team against us. All the teams will see Bangladesh in a different way.
"We have done our groundwork for the next one year, what and how we need to do things. Actually, we will play 10 Test matches within this period.
"We've never got to play so many Tests in the past in one calendar year because the big teams did not take Bangladesh seriously," he said. Bangladesh normally play around six Tests a year.
The BCB president said the victory over Sri Lanka was part of a larger upturn in performances which dated back to Bangladesh's qualification for the quarter-finals of the one-day World Cup in 2015.
Since that tournament, Bangladesh have won bilateral one-day series against Pakistan, India and South Africa, reached the final of Asia Cup Twenty20 tournament and defeated England and Sri Lanka in Tests.
"The eagerness and faith for winning developed among the boys," said Hassan.
"Sometimes it gets deviated, but it can happen, given we are a young team."
Follow Emirates 24|7 on Google News.