Bolt loses relay gold after Jamaica's Carter tests positive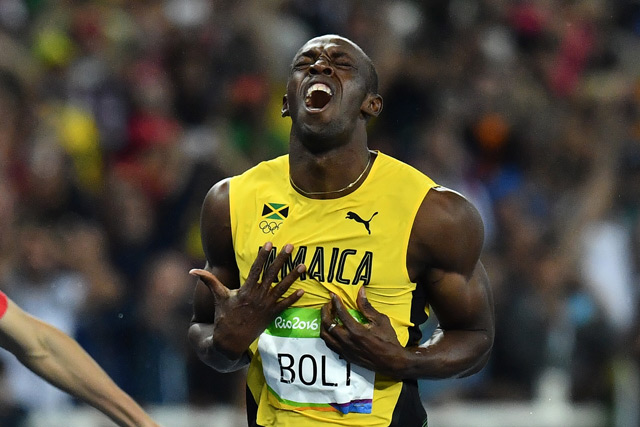 Jamaica's Usain Bolt has lost one of his nine Olympic gold medals and his perfect triple treble of Games' sprint victories after team mate Nesta Carter was found guilty of doping at the 2008 Beijing Olympics.
Carter was found in re-tests of his sample to have taken the banned stimulant methylhexaneamine, the International Olympic Committee (IOC) said on Wednesday, meaning Jamaica's 4x100 metres relay team must give back their gold medals.
Bolt is considered the greatest sprinter of all time, having won an unprecedented treble of consecutive golds in the 100m, 200m and 4x100 relay in three straight Olympics.
He is also credited with being a key factor in maintaining a global interest in athletics at a time when the sport has been ravaged by doping scandals and a drop in popularity.
Bolt was sleeping after a training session and unavailable to comment on Wednesday but in June, when sources familiar with the case told Reuters that Carter had failed a doping test, he was philosophical about the prospect of losing a gold medal.
"It's heartbreaking (the positive test) because over the years you've worked hard to accumulate gold medals and work hard to be a champion... but it's just one of those things," Bolt had told Reuters.
"Things happen in life, so when it's confirmed or whatever, if I need to give back my gold medal I'd have to give it back, it's not a problem for me."
Trinidad and Tobago are set to be promoted to gold in the Beijing 4x100, in which Jamaica set a then world record, with Japan moving up to silver and Brazil earning bronze.
The IOC also stripped Russian Tatiana Lebedeva of her long jump and triple jump silver medals from the Beijing Games after she tested positive for a steroid.
MEDAL REALLOCATION
A reallocation of medals is subject to any further results from the IOC anti-doping retesting programme. The international athletics' federation (IAAF) is responsible for modifying race results and sanctioning athletes.
"Once the IOC's case and any appeal is concluded for the disqualification of Nesta Carter from the men's 4x100m event at the Olympic Games Beijing 2008 for an anti-doping rule violation, the IAAF will take it to the Jamaican federation to determine Carter's sanction beyond this disqualification," the sport's ruling body said in a statement.
"The IAAF will also retest any samples it holds in storage for the athlete from other competitions."
The IOC has asked the Jamaican Olympic Committee to collect the medals from the athletes and send them to the Olympic body.
First-leg specialist Carter has been a vital member of Jamaica's dominant squad, helping the Caribbean island win gold medals at the 2008 and 2012 Olympics and the 2011, 2013 and 2015 world championships.
Asafa Powell, who has himself served a six-month doping ban, and Michael Frater completed the Jamaica sprint team at the 2008 race. Carter was unavailable to comment on Wednesday's IOC announcement, while Powell and Frater declined to comment.
"The Jamaican team is disqualified from the men's 4x100m relay event. The corresponding medals, medallist pins and diplomas are withdrawn and shall be returned," the IOC said.
Methylhexanamine has been on the World Anti-Doping Agency (WADA) Code prohibited list since 2004 although it was reclassified on the 2011 list as a "specified substance".
The IOC programme of revisiting samples uses developments in testing techniques to find traces of drugs that were undetectable in 2008 or at the London 2012 Games.
More than 100 athletes have so far tested positive in re-tests from the Beijing and the London Olympics.
Follow Emirates 24|7 on Google News.