Boonen aiming for Paris-Roubaix swansong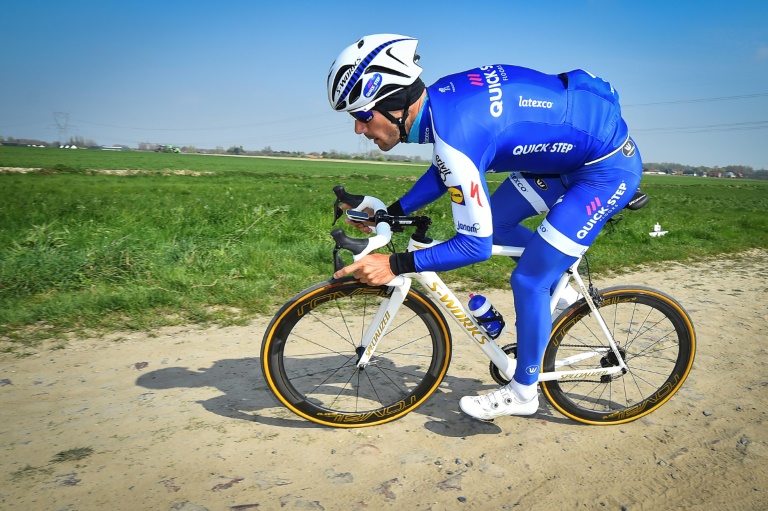 The curtain will come down on the career of one of cycling's greats at the end of Sunday's 257km long 'Hell of the North' one-day classic.
Tom Boonen will ride Paris-Roubaix for the 14th time, aiming for a record-extending fifth victory at the 'Queen of the Classics' in what will be the last race of his glittering career.
One of cycling's oldest and most prestigious races, Paris-Roubaix is a gruelling trek across rough terrain that includes 55km of cobblestones shared out over 29 bumpy sections.
And it is in this race more than any others that 36-year-old Boonen has made his mark on cycling, sharing the record of four victories with Belgian compatriot Roger De Vlaeminck.
He was just 21 when he rode the race for the first time in 2002, ostensibly in support of his American team leader George Hincapie in the US Postal squad of Lance Armstrong.
Hincapie crashed near the end but Boonen made his mark with a stunning third-place finish behind countryman Johan Museeuw and Steffan Wesemann of Germany.
Boonen was actually jeered by Flemish fans during the race, leading him to vow: "I'll never forget that and I'll remind them of it when I'm great!"
He would do that in good time.
Armstrong had no interest in the classics and Boonen felt US Postal was not the team for him, so after a year he moved to his current outfit Quick Step.
And he never looked back.
His first victory in Roubaix came just a week after winning the Tour of Flanders for the first time and nine months after claiming his first two stages at the Tour de France.
He would finish the year as world champion too. Boonen the star had truly arrived.
But no sooner was that the case than Boonen discovered a rival in Switzerland's Fabian Cancellara that would propel both to iconic status.
Cancellara rode away solo to win the 2006 Paris-Roubaix leaving Boonen -- originally fifth but who was promoted to second when three cyclists were disqualified for riding through a closed railway crossing -- to reflect: "I was lacking that little one percent to be on top and, sometimes, that's what makes the difference."
- 'Message to critics' -
He would soon have his day again, though, claiming victory in 2008 and 2009. After the first of those he stated: "I know all about pressure, it's not the first time I've had that from the start of the race. But this time I really wanted to send out a clear message to the critics."
Cancellara would win again in 2010 but Boonen was back on top with a solo success in 2012 after an audacious breakaway 55km from the finish.
His best days may be behind him now but Boonen, not least due to his experience, cannot be discounted. It was only a year ago that the Belgian took second place at the finish in the outdoor Roubaix velodrome, pipped in a sprint finish by the unlikely winner Mathew Hayman of Australia.
A mechanical problem at a crucial late stage ruined his race at last week's Tour of Flanders but Boonen felt he "had the legs to finish on the podium".
But he's steeled to do battle with the likes of Olympic champion Greg Van Avermaet, world champion Peter Sagan and 2015 Paris-Roubaix winner John Degenkolb one last time.
"I'm not expecting any presents, it will be even harder than the last years," said Boonen, who even in the twilight of his career will be a marked man.
"People look at me as if I had the secret to Paris-Roubaix," he chuckled.
"But there isn't really a secret -- it's just cycling fast on cobbles!"
Follow Emirates 24|7 on Google News.