Chinese footballer left stricken as ambulance door jams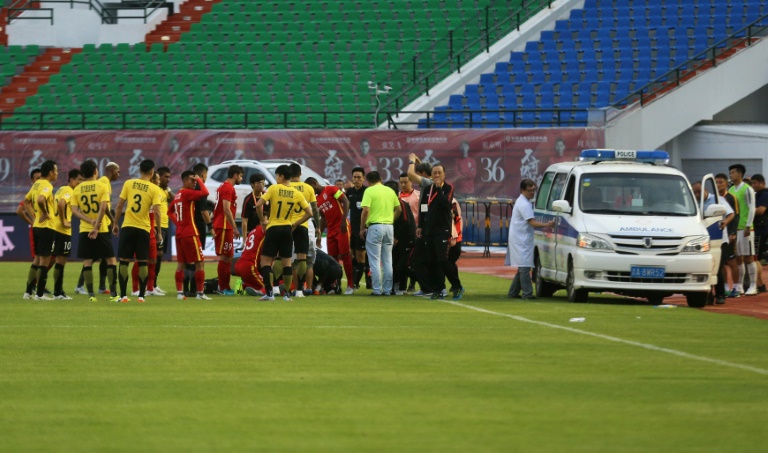 Medics tried to kick open a jammed ambulance door while a badly hurt Chinese footballer lay prone on the pitch for several minutes, fighting for breath.
Italian legend Fabio Cannavaro, coach of Chinese Super League (CSL) champions Guangzhou Evergrande, was left angered and fans and Chinese media hit out at what they called the amateurish treatment of Changchun Yatai's Wang Shouting.
The midfielder was knocked out just seconds into Saturday's 3-2 home league win over Cannavaro's side when Yang Liyu's shoulder accidently smashed him in the face as they jumped for the ball.
Medical staff from both sides rushed to help the 32-year-old Wang and the players of both teams were clearly anxious as he lay unconscious, face down.
An ambulance and stretcher were hastily summoned and it appeared Wang had swallowed his tongue.
But he was left for several minutes on the pitch as paramedics struggled with the back door of the ambulance, even kicking it as it refused to budge.
They eventually prised it open and Wang - by now conscious and on a stretcher - was taken to hospital and later released with no long-lasting damage.
But the incident was embarrassing for a league whose teams have lavished big-money contracts on star players and coaches of the ilk of Cannavaro.
"The life of the players can't be ignored," Cannavaro, who captained Italy to World Cup glory in 2006, was quoted as saying by the Information Times, a daily newspaper.
"During an emergency situation, there is no waiting time of several minutes.
"Ambulance and first-aid equipment must be on standby at all times and the problem of the door that can't be opened should not be ignored."
The Information Times savaged the cack-handed response in an article headlined, "China's football is still far from professional - when life is at stake, ambulance door won't open."
Fans fumed too, with one poster on Weibo, China's version of Twitter, asking disdainfully: "Is the ambulance a prop?"
Follow Emirates 24|7 on Google News.