Afghanistan win Sharjah T20 thriller by 5 runs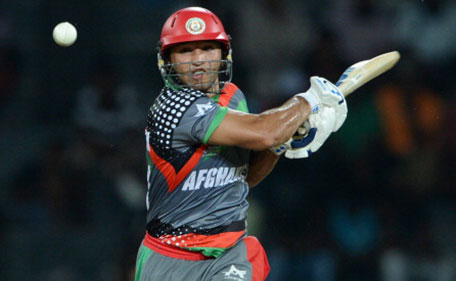 Afghanistan pulled off a thrilling five-run victory over Zimbabwe in the first of the two-T20 Internationals at Sharjah Stadium.
Zimbabwe always looked never to be in contention for a victory as they needed 21 runs off the final over.
But Luke Jongwe turned things around after he took full advantage of Dawlat Zadran's poor bowling.
Zimbabwe were denied a wide which meant they needed six runs off the final delivery, Jongwe's shot could not get the distance as he was caught in the deep.
Malcolm Waller remained unbeaten on 49 while Hamilton Masakadza (33) was the other batsmen to score.
Earlier, Usman Ghani top scored with a fine 42 as Afghanistan achieved an impressive 187 for seven in 20 overs.
The openers Mohammad Shahzad (33) and Ghani provided a brilliant start sharing 63 runs for the opening wicket. Gulbadin Naib (37) and Mohammad Nabi (26) tok control in the middle to ensure Afghanistan handed Zimbabwe a stiff target.
ZIMBABWE INNINGS
WICKET! Afghanistan just managed to grab the victory after an interesting final over. Needing 21 runs off the six balls, Jongwe took Zimbabwe almost close to the victory line before falling short by five runs. Zim 182-7 in 20 overs.

Luke Jongwe c Gulbadin Naib b Dawlat Zadran 11 (5b 1x4 1x6)

WICKET! A free-hit for Chigumbura which he smashes it directly to the man in the deep who effects a run out. Zim 170-6 in 19.1 overs.
Elton Chigumbura run out 8 (7b 0x4 1x6)
WICKET! Raza steps out for a big one but misses it to be stumped. Zim 151-5 in 17.5 overs.
Sikandar Raza st Mohammad Shahzad b Amir Hamza 19 (19b 1x4 1x6)
Waller reaches 41 from 33 balls while Raza is batting on 12. Zimbabwe still need 45 from 18 balls. Zim 143-4 in 17 overs.

WICKET! Masakadza attempts a reverse sweep and misses it to be bowled. Zimbabwe need 93 from 53 balls. Zim 95-4 in 11. 1 overs.
Hamilton Masakadza b Mohammad Nabi 33 (24b 3x4 2x6)
Zimbabwe struggling to cope with the required run rate thanks to some brilliant bowling in the middle. Zim 72-3 in 9 overs.

WICKET! Afghanistan strike again as Zimbabwe lose their third wicket. Zim 54-3 in 6.1 overs.
Richmond Mutumbami c Mohammad Nabi b Gulbadin Naib 19 (17b 1x4 2x6)
WICKET! Chibhabha is gone offering a simple catch to Rashid Khan at mid-on. He showed great form hammering three boundaries to reach 18 from 10 balls. Zim 32-2 in 3 overs.
Chamu Chibhabha c Rashid Khan b Dawlat Zadran 18 (10b 3x4 0x6)
WICKET! Afghanistan strike early as Zadran picks Moor. A simple catch at point from Najibullah Zadran. Zim 2-1 in 0.3 overs.
Peter Moor c Najibullah Zadran b Dawlat Zadran 2 (3b 0x4 0x6)
Peter Moor and Hamilton Masakadza open as Zadran bowls for Afghanistan. They need a big start from the openers.

AFGHANISTAN INNINGS

WICKET! Nabi is run out attempting a cheeky single. Afg 173-7 in 19.1 overs.
Gulbadin Naib run out 37 (20b 2x4 3x6)
WICKET! Afghanistan lose yet another as Jongwe gets Zardan bowled. Afg 162-6 in 18.2 overs.
Najibullah Zadran b Jongwe 1 (2b 0x4 0x6)
WICKET! After a rollicking innings, including back to back sixes Nabi is out. Afg 157-5 in 17.5 overs
Mohammad Nabi c Sikandar Raza b Chisoro 26 (11b 1x4 3x6)
Naib on 24, Nabi is batting on 14 as Afghanistan reach 143-4 in 17 overs.

Nabi and Naib get a six each as Afghanistan reach 121 for four in 15 overs.

WICKET! Afghanistan lose another quick one. The spinners are doing a great job. Sadiq offers a low catch to Chibhabha at deep midwicket. Afg 105-4 in 13.2 overs.
Karim Sadiq c Chibhabha b Cremer 16 (17b 2x4 0x6)
WICKET! Good knock from Ghani as he succumbs at 42 from 38 deliveries. Afg 104-3 in 12.5 overs.
Usman Ghani c Moor b Raza 42 (38b 5x4 1x6)
Ghani reaches 42 from 37 balls. Afg 99-2 in 12 overs.

Half way through the innings, Afghanistan have reached 84 for two in 10 overs.

WICKET! Stanikzai gets a six and goes for another big one only to offer a catch in the deep. Raza makes no mistake as he latches on to a fine catch. Afg 75-2 in 8.3 overs.
Asghar Stanikzai c Sikandar Raza b Cremer 8 (8b 0x4 1x6)
WICKET! Big wicket for Zimbabwe as Shahzad is bowled by Cremer. Goes for a big sweep and misses it completely. Afg 63-1 in 6.3 overs.
Mohammad Shahzad b Cremer 33 (17b 2x4 3x6)
End of powerplay as Afghanistan reach 62-0 in 6 overs. They maintain a good run rate of over 10 runs per over.

Amazing powerplay from the openers as they shared a half century partnership. Shahzad on 32 from just 15 deliveries while Ghani on 15 from as many balls. Afg 51-0 in 5 overs.

Shahzad getting his second big six while Ghani gets a maximum earlier in the over as they notch up 16 runs. Afg 38-0 in 4 overs.

Afghanistan fans filling up the stadium as they cheer every run. Shahzad attempting the big one every ball. Afg 22-0 in 3 overs.

Afghanistan get to a positive start with Shahzad firing a boundary in the first over. Afg 1-0 in 1 over.

PLAYING XI:

Afghanistan: Mohammad Shahzad, Usman Ghani, Mohammad Nabi, Asghar Stanikzai, Gulbadin Naib, Karim Sadiq, Najibullah Zadran, Rashid Khan, Mirwais Ashraf, Dawlat Zadran, Amir Hamza
Zimbabwe: Sikandar Raza, Chamu Chibhabha, Hamilton Masakadza, Richmond Mutumbami, Elton Chigumbura, Malcolm Waller, Peter Moor, Luke Jongwe, Graeme Cremer, Tendai Chisoro, Donald Tiripano
PREVIEW

Afghanistan gave their fans a lot to cheer after defeating Zimbabwe 3-2 in the ODI series recently.

They will be keen to continue the good work as they take on Zimbawe in the first of the two-T20 Internationals.
Afghanistan have opted to bat first winning the toss. With the World Cup just a few months away, this would be a perfect test for both the teams to understand where they stand.
Follow Emirates 24|7 on Google News.