After KPL, KCL, now it's time for Sharjah's new Desert Premier League T20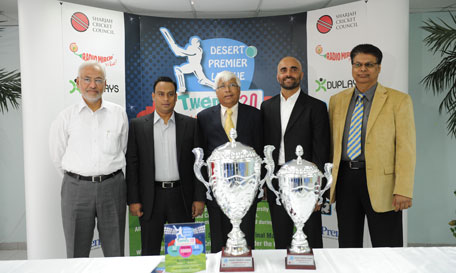 Infoquest JLT in collaboration with Sharjah Cricket Council (SCC) announced the launch of the Desert Premier League (DPL) Twenty20 tournament to be held from January 25 to March 30.
"Sharjah Cricket is delighted to be associated with Infoquest JLT and Desert Premier League. Such an event will bring in more corporate houses to get into the T20 mode. Teams will get an opportunity to play at the Sharjah Cricket stadium in the final stages of the game," said SCC secretary Mazhar Khan at a press conference on Wednesday.
It is the newest edition in the calendar of cricket close on the heels of KPL Dubai and the just concluded.
The tournament will feature a total of 32 teams and 63 matches with all qualifying and pre-quarter final matches to be played at the Al Dhaid Cricket Village, Skyline University College with Sharjah Cricket Stadium hosting the event from the quarter-finals onwards.
A total of AED 50,000 will be given as prize money which includes trophies.
DPL will help develop social cohesion and interaction among cricket loving people in the UAE and globally and the main objective is to promote the unregistered and unrecognised teams and players, who have the talent and capabilities but go unnoticed.
Moin Mohammad, Tournament Director, said: "We will have eight groups and each group will have four teams and each team will play three matches against each other from their respective group in qualifying format. The top two teams will qualify for the pre-quarterfinals. All the matches starting from pre-quarterfinals will be played on knockout basis.
He said they have also got confirmation from three international club teams from Afghanistan and Kuwait which will be participating in the tournament.
"Another interesting and unique concept we thought of incorporating in this tournament was to provide chance to those players who really cannot afford to come and play. There are many who are passionate to play but have no opportunity to do so. We are identifying those and forming three teams and they won't be charged anything. This is our commitment from DPL to promote the game among the unknowns," added Moin.
"We are happy to sponsor this tournament. Our sincere thanks to Mazhar Khan and Sharjah Cricket council for allowing us to do this tournament here at this prestigious Sharjah Cricket Stadium. We are looking forward to having a successful tournament," said Mughis Chaudhry, executive director of Infoquest JLT.
"Basically it is for average players and teams who cannot play in major tournaments. Teams will be registered with the Sharjah Cricket Council for this tournament," he said when asked about the idea behind this event.
While Infoquest JLT will be the main sponsor, Duplays, Radio Mirchi, Doodleclick.com, AJ Sports, Design4prints.com, Stallionz Sports, Premium and Skyline University are the co-sponsors for the tournament.
Registrations will close on January 10, 2013 and interested teams can contact Moin Mohammad on +971 50 8566441 or email: moin@infoquestit.com and Mughis at +971 55 6031653 or email: mughis@infoquestit.com Website: www.dpltwenty20.com

Follow Emirates 24|7 on Google News.