Ajmal rubbishes bowling action suspicions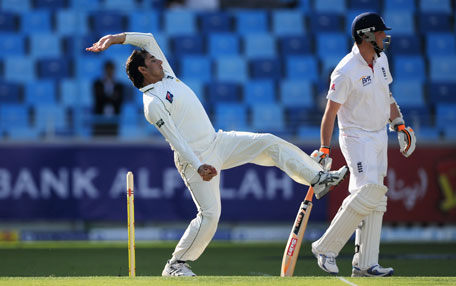 Pakistani off-spinner Saeed Ajmal brushed aside suspicions over his bowling action after wrecking England with career-best figures of 7-55 on the opening day of the first Test in Dubai on Tuesday.
The 34-year-old, whose claims to unveil a mystery delivery he called teesra (the third one) surrounded the build-up of the three-Test series, helped Pakistan bundle out England for 192 on a slow turning pitch at the Dubai International Cricket Stadium.
Pakistan finished the day on 42-0, trailing by 150 runs.
Former England paceman Bob Willis raised suspicions over Ajmal's action.
"The off-spinner is fairly orthodox. The delivery that I have a problem with is the doosra (second one)," Willis, referring to Ajmal's delivery which turns the other way than the normal off-spin, while commentating on Sky Sports in England.
"The ICC have accommodated this delivery - they changed the rules to allow these bowlers to bend their elbow 15 degrees which is what makes it so difficult for the batsmen," said Willis.
But Ajmal said he was not worried about his action.
"I am just focusing on my bowling. I don't know about that and it's the responsibility of the umpires and referee to check my action. I have bowled my best so I am happy," said Ajmal whose action was questioned once in 2009.
"They did it to Saqlain Mushtaq," said Ajmal about the former Pakistan spinner, regarded as the founder of doosra. "They are doing it with me now. Australia questioned my action (in 2009) but I see no problem with it."
Ajmal said he did try to bowl his mystery delivery but hasn't perfected it.
"I did try to bowl that delivery (teesra) but I have not perfected it, have not full confidence in it so maybe I bowl it in the next two to three innings," said Ajmal, whose previous best of 6-42 came against the West Indies last year.
Ajmal said he bowled wicket to wicket and got his reward.
"I just bowled wicket to wicket and that helped me a lot and I got four leg-before wickets, bowling wicket to wicket did not help me get spin but some bad shots gave me wickets," said Ajmal.
Ajmal refused to accept the English batsmen were weak against spin.
"England are the world number one team and it's wrong to say they are weak against spin. I think it was my good day and they had a bad day," said Ajmal of the England batsmen among whom wicketkeeper Matt Prior topscored with 70 not out.
Prior said England were ready for Ajmal.
"I don't think he got in our heads. Obviously we spoke about him. He's a big threat. He's had a good day, he's bowled well, fairplay. I don't think its a case of us overthinking or fearing him or anything. We just didn't quite get it right," said Prior.
Prior admitted England batsmen played some bad shots.
"There were a few cross batted shots, maybe needed to play straight, we've got class batters in that unit and we have a great opportunity to turn it around in the second innings," said Prior.
Prior insisted England could come back from the bad position they found themselves in.
"This team has been in tough positions before, we had fought our way back we have won Tests and saved matches from this position. It's not all over. We can't just give it up now...we have a huge day tomorrow (Wednesday) and we are very confident we can pull something out of this game."
Follow Emirates 24|7 on Google News.