Amla quits as South Africa captain after Test draw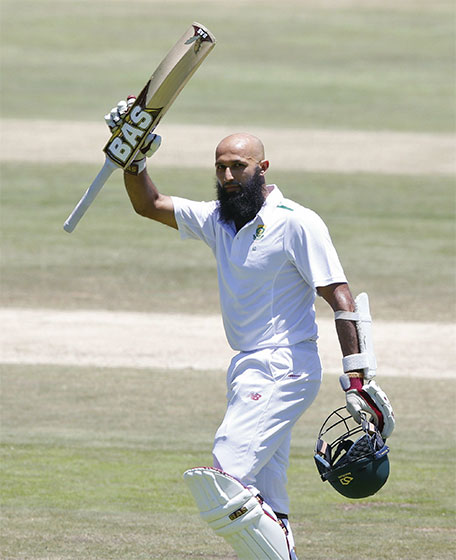 Hashim Amla announced a shock decision to resign as South African captain after leading his team to a draw in the second Test at Newlands on Wednesday.

"I felt someone else could do a better job," Amla told journalists.

"The decision was not made over the last couple of days. It was made at least two weeks ago."

AB de Villiers will lead South Africa in the remaining two matches of a series which England lead 1-0.

"I had chatted to a few of the guys before this so this did not come as a massive shock to them," said Amla.

"We have a very tight leadership team - myself, AB, Faf (du Plessis), quite a few of the senior guys. AB is very able and a brilliant captain himself."

On what had been expected to be a low-key final day after high scoring in the first innings, Amla's captaincy ended on a high.

After scoring 201 in a South African fightback following a battering by a Ben Stokes-inspired England in the first innings of the match, Amla had one of his better days in the field as England lost six second innings wickets by mid-afternoon.

Jonny Bairstow and Moeen Ali negotiated the rest of the afternoon and England were on 159 for six, leading by 161 runs, when play was called off.

Amla had explained in a statement: "After careful consideration and considerable thought, I wish to announce I will be stepping down as captain of the Proteas Test team with immediate effect.

"This decision was not an easy one to make but I felt I needed to be true to myself, having done a personal introspection.

"I feel comfortable with my decision, knowing that I have given my best at all times and will continue to do so. However, I feel there is a greater need to work on my own game, thus giving me the opportunity to continue contributing as a batsman."

Amla captained South Africa in 14 Tests, winning four, losing four and drawing six.

Told of Amla's decision, England captain Alastair Cook said: "This is a bit of a shock. He played an outstanding innings, a real captain's knock."

On the day's play, he added: "It was a nervous day, but Jonny and Mo calmed a few nerves. The conditions did change, some cloud came in, the ball did swing and they bowled pretty well. But over the five days I was pretty happy with our performance."

He said England's dropping of a string of catches during South Africa's first innings was disappointing.

"Clearly the chances we missed cost us the victory. It was frustrating that we couldn't do it and the game would have looked very different if we had managed to do it."

Cook hailed the innings of 258 off 198 balls played by man of the match Stokes, which enabled him to declare on 629 for six midway through the second afternoon.

"It was unbelievable batting," said Cook. "It was controlled batting of the highest quality. It was a real gem. Everyone now knows he can turn games. He set that game up and gave us the opportunity to win.

"We know that's not going to happen every time he walks out to bat and he won't score those runs all the time, but he will do that again because he's so talented."

The flurry of wickets on Wednesday was in complete contrast to the first four days when both teams scored more than 600 runs in their first innings and 1272 runs were scored for the loss of only 13 wickets.

After four days of unrelenting sunshine, the sky was partly overcast on Wednesday.

The fast bowlers, led by Morne Morkel, gained some movement, while off-spinner Dane Piedt obtained some turn from a pitch which had previously offered no assistance to the bowlers.

Piedt was the most successful bowler, taking three for 38.


Follow Emirates 24|7 on Google News.