Asif and Ahmed star in Ibsons win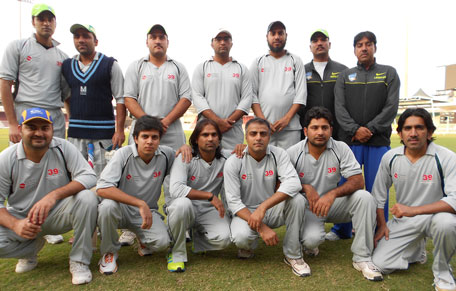 Faizan Asif cracked a quickfire half century while Fayyaz Ahmed plucked five important wickets as Ibsons Group CC beat United Bank Limited (UBL) by 93 runs in the 39th Bukhatir League 'A' Division Tournament organised by the Sharjah Cricket Council.

Ibsons openers Ibrahim Malik and Asif featured in a a century partnership scoring at an average of more than 10 runs per over.

But the fall of Malik (32 with 5x4, 1x6) completely slowed down the run flow as Ibson's managed only 24 runs in the next 10 overs losing three more wickets in the process leaving them at 134 for four.

Asif continued his amazing run at the other end blasting 72 from only 43 deliveries consisting of six hits to the fence and five over it.

Cameos from Rizwan Qureshi (26), Pervaiz Malik (23), Fardan Khalid (19) and Kamran Shahzad (15) ensured Ibsons amassed a competitive 267 all out in 49.4 overs.

In reply, UBL made a steady start with Imran Masood scoring a 103-ball 85 consisting of seven boundaries and one six.

Fayyaz bowled a superb spell to claim five wickets and Zuhaib Ahmed and Rizwan Qureshi scalped two each as UBL were bundled out for 174 in 39.5 overs.

Brief scores:

Ibsons Group CC bt United Bank Limited by 93 runs

Ibsons 267 all out in 49.4 overs (Ibrahim Malik 32, Faizan Asif 72, Rizwan Qureshi 26, Pervaiz Malik 23, Fardan Khalid 19, Kamran Shahzad 15no; Aqeel Anwar 3 for 36, Ahmed Raza 3 for 34, Zaheer Masood 2 for 36) UBL 174 all out in 39.5 overs (Imran Masood 85, Ahmed Raza 34; Fayyaz Ahmed 5 for 24, Zuhaib Ahmed 2 for 42, Rizwan Qureshi 2 for 40).
Man of the Match: Fayyaz Ahmed.
Umpires: Arshad Ansari and Fida Abbas. Scorers: Muhammad Asif and Muhammad Ramees.
Follow Emirates 24|7 on Google News.