Australia crush India to sweep series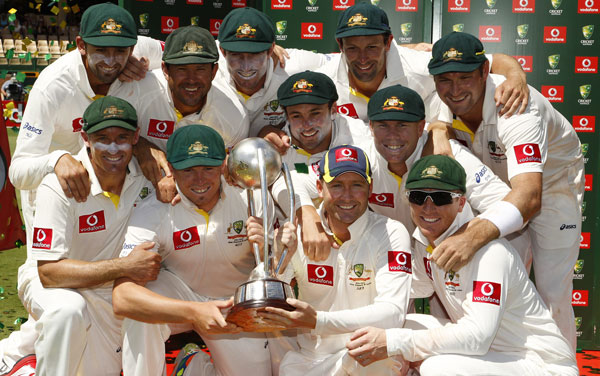 Resurgent Australia ruthlessly ripped through the last flagging remnants of Indian resistance in less than an hour at the Adelaide Oval on Saturday to record a fourth crushing test win and sweep the series.
It was a remarkable turnaround for a team that 12 months ago were in crisis after a first home Ashes defeat in 26 years saw them slump to fifth in the world test rankings.
For an India team packed with some of the best batsmen ever to have played the game, the 298-run defeat was a humiliating eighth successive overseas test loss.
"I think the job we've done over the last month has been outstanding," said Australia captain Michael Clarke, named Man of the Series for his brilliant unbeaten 329 in Sydney and double century in Adelaide.
"It hasn't been easy despite the 4-0, we've had to work our backsides off. We certainly should be proud of what we've done."
Last year's 4-0 series defeat in England saw India relinquish the top spot in the world rankings but they had still arrived Down Under confident they could finally claim a first series triumph in Australia.
It was not even close.
The hosts won the first test in Melbourne by 122 runs and followed that with an innings and 68-run victory in Sydney and an innings and 37-run triumph in Perth.
"In England we didn't bat well and here we didn't bat well," admitted stand-in captain Virender Sehwag. "Six or seven batsmen didn't score enough runs for the bowlers to win the games.
"The best way out is to forget what happened and concentrate on what we will do in coming matches and coming series and practise hard and plan well and execute your plans in the game," he added.
FAILED TO FIRE
India had resumed on 166 for six in their second innings on Saturday chasing an improbable 500 runs for victory but their tail-end batsman lasted just 58 minutes on another hot and sunny morning.
With world class batsmen like Rahul Dravid, Sachin Tendulkar and VVS Laxman all having failed to fire yet again on Friday, there was little hope of India rescuing a draw by batting through the final day.
Nighwatchman Ishant Sharma (2) was the first to go in the third over of the morning when he got a nick to a delivery from quick Ryan Harris and was caught behind without any addition to the overnight score.
Wriddhiman Saha, standing in as wicketkeeper for banned India skipper Mahendra Singh Dhoni, was dismissed in the next over in similar style off Peter Siddle for three.
Zaheer Khan hit a typically bullish 15 off 18 balls before swinging at a short Ben Hilfenhaus delivery and getting a thick edge to David Warner at short cover, leaving Umesh Yadav and Ravi Ashwin (15 not out) as the final partnership.
Spinner Nathan Lyon (4-63) performed the coup de grace when he had Umesh Yadav caught behind for one to leave the tourists all out for 201 to add to their 272 first innings tally in reply to Australia's 604-7 and 167-5 declared.
It was appropriate that it was Australia's bowlers who got the team over the line.
Although there were some memorable batting performances - notably Clarke's two big innings, Ricky Ponting's first century in two years and David Warner's quickfire 180 in Perth - it was Australia's bowling which proved the difference.
Siddle, who claimed 23 wickets in the series, and Hilfenhaus (27) had looked workmanlike at best when they were flogged all over the park by England's batsmen in the Ashes defeat but were transformed against India.
With the addition of youngsters like James Pattinson and Mitchell Starc as well as old stager Ryan Harris, they bowled as a unit, suffocated the vaunted Indian batsmen and took 20 wickets in all four tests.
"No matter what attack we had, we stuck to our guns and did the job," said Siddle, who won the Adelaide Man of the Match award for his 5-49 in India's first innings.
"We didn't steer away from that. We knew every morning we rocked up we had our plan - bowl good lengths and be patient - and I think it showed."
Dhoni, who missed the match because of India's slow over rate in Perth, said Australia had played "brilliantly" and was reluctant to usher any of his team mates towards the exit.
"Our next test series is only in September, there is plenty of time, we don't want to take decisions quickly."
Follow Emirates 24|7 on Google News.