Australia crush New Zealand with day to spare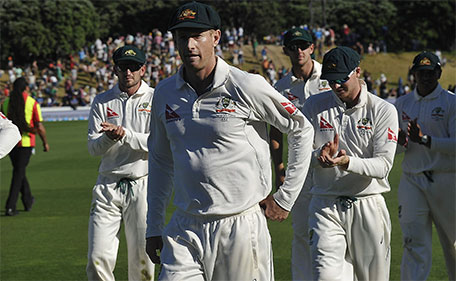 Australia inflicted a crushing innings defeat on New Zealand with a day to spare in the first Test in Wellington when they dismissed the home side for 327 on Monday.
In a Test that will be remembered for two majestic innings by Adam Voges and Usman Khawaja, as well as an umpiring howler, Australia won by an innings and 52 runs.
Nathan Lyon, Jackson Bird, Mitchell Marsh and Josh Hazlewood all shared the spoils as the last six New Zealand wickets fell for 149 on day four.
Australian captain Steve Smith said it was the first step in their quest to regain the number one Test ranking which will require them sweeping the two-Test series.
"We want to be number one in the world in all three formats and I think this Test match is a step in the right direction," he said.
"It was a pretty good toss to win. Having said that, we had to put the ball in the right areas for extended periods and I think we did that. We put the NZ batters under pressure and reaped the rewards."
New Zealand were on the back foot from the time they lost the toss and were 51-5 in the first session, according to skipper Brendon McCullum.
"Conditions were difficult on that first morning," he said.
"We came up against a team who played a very, very good Test match and we were just a little bit short. It's not a reinvent the wheel situation but we've got to tidy up a few areas."
New Zealand had been set a target of 379 just to get in credit in their second innings after Voges' 239 set up Australia's first innings of 562.
The recognised New Zealand batsmen made starts, but were unable to turn them into big scores.
After getting to 218-7 it was left to the last three batsmen to add 109 runs. Tim Southee was in a one-day mood with 48 off 23 balls and Mark Craig contributed an unbeaten 33.
At the top of the order, Tom Latham scored 63 and Henry Nicholls, on debut, added 59 while Martin Guptill made 45 and Kane Williamson 22.
Williamson and BJ Watling are renowned as doughty batsmen capable of occupying the crease for a long time but neither lived up to their reputation in the face of a tight bowling attack.
Lyon occupied one end with his off-breaks and the quicks were rotated at the other with a plan for each of the batsmen.
Watling has featured in two world-record stands for the sixth wicket at the Basin Reserve in the past two years.
He batted for 510 minutes with McCullum in a 352-run stand that saved a Test against India in 2014 and last year batted for 479 minutes in an unbeaten 365-run stand with Williamson to beat Sri Lanka.
But he was undone in 40 minutes by Australia when he attempted to cut a Lyon delivery and was beaten by the turn with the ball taking an inside edge to ricochet into the stumps.
Nicholls resumed the day at 31 and won a battle of wits with Hazlewood who fired down a series of good length deliveries, seaming the ball away and tempting the left-hander to chase the shot.
When Nicholls refused to take the bait, Hazlewood switched to a short delivery which was pulled to the square-leg boundary.
Bird eventually claimed the 24-year-old with a good length delivery that bowled him as he tried to turn it to the on side.
Southee and Craig delayed the inevitable, putting on 59 for the ninth wicket.
Lyon finished with four for 91, while Mitchell Marsh took three for 73.
Australia had been in charge of the Test from the time Smith won the toss and New Zealand were out within two sessions on a green-topped wicket.
As the wicket flattened out, Australia were able to score more freely with their cause helped by umpire Richard Illingworth wrongly calling no ball when Voges was bowled by Doug Bracewell on seven.
The 36-year-old went on to make 239 while Khawaja added 140 to have New Zealand effectively out of the game after the first innings.
The second Test starts in Christchurch on Saturday. It will be the last international for the retiring McCullum.
Scoreboard:
New Zealand 1st innings 183 (M. Craig 41 n.o.; Hazlewood 4-42, Lyon 3-32, Siddle 3-37)
Australia 1st innings 562 (A. Voges 239, U. Khawaja 140, S. Smith 71; Anderson 2-79, Southee 2-87)
New Zealand 2nd innings (overnight 178-4)
T. Latham c Khawaja b Lyon 63
M. Guptill c Marsh b Lyon 45
K. Williamson c Nevill b Hazlewood 22
H. Nicholls b Bird 59
B. McCullum lbw Marsh 10
C. Anderson lbw Marsh 0
B. Watling b Lyon 10
D. Bracewell lbw Hazlewood 14
M. Craig not out 33
T. Southee c Khawaja b Lyon 48
T. Boult b Marsh 12
Extras: (b2, lb5, nb4) 11
Total (for 10 wickets, 104.3 overs) 327
Fall of wickets: 1-81 (Guptill), 2-121 (Williamson), 3-157 (Latham), 4-178 (McCullum), 5-185 (Anderson), 6-214 (Watling), 7-218 (Nicholls), 8-242 (Bracewell), 9-301 (Southee), 10-327 (Boult)
Bowling: Hazlewood 29-7-75-2, Bird 19-4-51-1 (nb2), Siddle 8-0-30-0, Marsh 17.3-2-73-3 (nb2), Lyon 31-10-91-4
Result: Australia win by innings and 52 runs
Umpires: Richard Illingworth (ENG), Richard Kettleborough (ENG)
TV umpire: Ranmore Martinesz (SRI)
Match referee: Chris Broad (ENG)
Follow Emirates 24|7 on Google News.