Australia vs England 3rd T20 in Sydney: England's tour finally ends with a whimper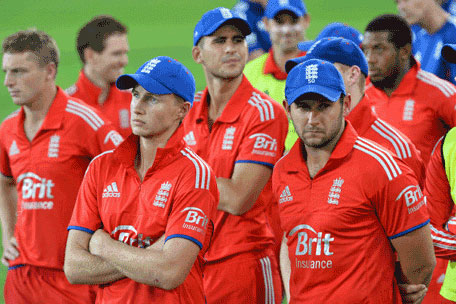 England's sorry tour of Australia finally ended with a whimper Sunday - a crushing 84-run defeat to give the hosts a clean sweep of the three-game Twenty20 series.

The Australians, with man-of-the-match George Bailey smashing an unbeaten 49 off 20 balls, scored 195 for six after winning the toss in Sydney.

The home side then dismissed the psychologically-scarred tourists for 111 in the 18th over to sweep the series.

It marked the end of a disastrous 103-day tour for England, who lost the Ashes Tests 5-0 and the one-day international series 4-1, meaning Australia won 12-1 across the three formats.

In between the losses, the international careers of spinner Graeme Swann and coach Andy Flower have been ended.

The future is also uncertain for Kevin Pietersen, Matt Prior and Jonathan Trott while Alastair Cook's Test captaincy is far from certain.

"It's been good fun throughout the tour. We've been hugely disappointing, not at the races for three months, but you have to give credit to Australia," said England T20 skipper Stuart Broad.

"We've got a two-week break at home and then go to the Caribbean but we know we're a decent T20 side.

"We can now get together as a group for a decent period to work on specific things, improve and learn from this week.

"We've got a dangerous side. We've got to go to Bangladesh (for the world T20) with confidence and hopefully we can get some momentum in the Caribbean."

England, perhaps with their minds on the team's departure home in the hours after the Sydney match, surrendered limply to the Australian bowlers.

Eoin Morgan was the best of a bad lot with 34 off 20 balls as the Australian bowlers shared in the wickets.

Nathan Coulter-Nile and spinners Glenn Maxwell and James Muirhead each claimed two wickets.

Skipper Bailey earlier clubbed 26 runs off the last over to steer Australia to their insurmountable total after winning the toss at Sydney's Olympic stadium.

The Aussie skipper smacked 4-6-6-4-4-2 off Jade Dernbach's last over of the innings. In all Australia hit 13 sixes in their innings.

Bailey smashed a total of three sixes and four fours in an unbroken seventh-wicket stand of 56 with wicketkeeper Matthew Wade (19 off 10 balls).

Bailey said Australia's selectors had some welcome headaches to solve ahead of the World T20.

"It was a challenge we threw out to the group... there would be spots up for grabs," he said.

"Guys needed to commit to how the team wanted to play and I can't fault any of them.

"It's been very, very pleasing and we've finished it off with the most complete performance tonight, which is great.

"It was a couple of lucky nights (with the bat for me) so hopefully that can continue for a bit further.

"Both nights we've had solid starts and that's been key to us - (Aaron) Finch and White in all three games."

Opener Cameron White continued his strong T20 series with 41 off 37 balls, while fast bowler Ben Cutting - elevated to number four in the batting order - cracked three sixes in his 29 off 16 balls.

Recalled veteran Brad Hodge, batting in his first T20 international in six years, scored seven.

Broad was the best of England's bowlers with three for 30, including the wickets of Hodge and Dan Christian in his final over.

ENGLAND INNINGS

Dernbach is run out and England are all out 111 in 17.2 overs.

Jade Dernbach run out 1 (2b 0x4 0x6)

It is all over bar the shouting now as Broad goes castled by Muirhead. Eng 104-9 in 16.1 overs.

Stuart Broad b Muirhead 2 (4b 0x4 0x6)

Bresnan hammer a six head off Muirhead but is stumped next ball. Eng 98-8 in 14.3 overs.

Tim Bresnan st Wade b Muirhead 14 (7b 1x4 1x6)

England are collapsing in heap as Bopara goes with his stumps being disturbed off a huge inside edge. Eng 92-7 in 13.5 overs.

Ravi Bopara b Coulter-Nile 4 (5b 0x4 0x6)

Starc takes a brilliant catch to send back Morgan. Eng 82-6 in 12.4 overs.

Eoin Morgan c Starc b Cutting 34 (20b 2x4 2x6)

Buttler is gone as England find themselves sinking further holing out Maxwell off Christian. Eng 79-5 in 12 overs.

Jos Buttler c Maxwell b Christian 8 (9b 1x4 0x6)

Morgan slams another boundary off Maxwell. Eng 75-4 in 11 overs.

England are crumbling as Root departing finding Cutting in the deep as Maxwell picks up his second wicket. Eng 60-4 in 9 overs.

Joe Root c Cutting b Maxwell 11 (21b 1x4 0x6)

Morgan scoops Christian over fine leg for his second six as England counter attack. Eng 53-3 in 8 overs.

England are trying to hit their way out of trouble with Morgan hammering Morgan for a six. Eng 43-3 in 7 overs.

Stokes hits a boundary off Maxwell but does not last long with Cutting holding a skier off a leading edge. Eng 25-3 in 5 overs.

Ben Stokes c Cutting b Maxwell 5 (4b 1x4 0x6)

England are in all sorts of trouble as Hales flicks to Muirhead in the deep. Eg 19-2 in 3.3 overs.

Alex Hales c Muirhead b Coulter-Nile 6 (8b 1x4 0x6)

Starc strikes as Wright miscues a pull straight down the throat of Cutting. Eng 11-1 in 2.5 overs.

Luke Wright c Cutting b Starc 8 (12b 1x4 0x6)

Wright hits the first boundary of the innings scooping Coulter-Nile down the leg side. Eng 9-0 in 2 overs.

AUSTRALIA INNINGS
A whirlwind unbeaten 49 off 20 balls by skipper George Bailey who smashed four boundaries and three sixes saw Australia make a formidable 195-6 in 20 overs.

Broad was the pick of the England bowlers finishing with figures of 4-0-30-3.

Australia finish strongly as Dernbach goes for 26 in the final over with Bailey cracking three boundaries and two sixes in five balls. Aus 195-6 in 20 overs.

Wade slams a slower ball from Bresnan for a six over midwicket. Aus 169-6 in 19 overs.

Wade slams a boundary off Dernbach after Bopara fails to hold onto a catch running from deep midwicket. Aus 157-6 in 18 overs.

Double strike by Broad having Hodge and castling Christian. Aus 139-6 in 16 overs.

Daniel Christian b Broad 0 (2b 0x4 0x6)

Brad Hodge c Dernbach b Broad 7 (7b 1x4 0x6)

Hodge cuts Jordan for his first boundary via an inside edge. Aus 137-4 in 15 overs.

White is out being adjudged caught behind glancing Jordan. Aus 130-4 in 14.1overs.

Cameron White c Buttler b Jordan 41 (37b 4x4 1x6)

Skipper Bailey is on fire smashing a boundaries and a six off Root. Aus 130-3 in 14 overs.

Part-time spinner Joe Root strikes with his second delivery clinging onto a return chance to dismiss the dangerous Cutting. Aus 118-3 in 13.2 overs.

Ben Cutting c and b Root 29 (16b 1x4 3x6)

White clubs Stokes over long-off for his first six while Cutting seems to be dealing in boundaries hammering his third six as the 50 partnership comes in 27 balls. Aus 117-2 in 13 overs.

Dernbach bowls a good over with slower deliveries though Cutting manages to get a boundary. Aus 104-2 in 12 overs.

Good over for Australia as Bresnan goes for 18 with White slamming consecutive boundaries while Cutting smashes a six into the stands. Aus 97-2 in 11 overs.

Cutting jusitifies his promotioni in the order by blasting a six off Broad. Aus 74-2 in 9 overs.
Maxwell clubs Broad for another six but holes out to Hales at long-on next ball. Aus 65-2 in 8.2 overs.

Glenn Maxwell c Hales b Broad 14 (8b 0x4 2x6)

Maxwell opens his account by flayiing Stokes for a flat six over long-off. Aus 59-1 in 8 overs.

England get a breakthrough as Finch miscues a pull straight to Broad at midwicket. Aus 48-1 in 6.4 overs.

Aaron Finch c Broad b Bresnan 30 (21b 1x4 3x6)

Finch is on fire blasting his third six this time off Bresnan with Hales on the long-on fence failing to latch onto it.

Stokes goes for 14 his first over with Finch clubbing two sixes, the second straight over his head. Aus 41-0 in 6 overs.

Finch hits the first six of the match stepping out and belting the second ball from Stokes over backward square leg.

Finch gets a life off the second ball bowled by Bresnan with Jordan at short midwicket failing to hold on to the overhead catch. Aus 27-0 in 5 overs.

Finch pulls a short delivery from Jordan to square leg for his first boundary. Aus 24-0 in 4 overs.

White cracks consecutive boundaries off Broad's second over. Aus 17-0 in 3 overs.

White hits the first boundary driving Broad straight down the ground.

Jordan bowls a good opening over. Aus 7-0 in 2 overs.

White takes strikes against Broad as the final match of England's tour Down Under gets underway.
Australia have won won the toss and elected to bat in third and final T20 international against England at Sydney on Sunday.
England make two team changes with Ben Stokes and Chris Jordan coming in for Michael Lumb and James Tredwell.
Australia have made two changes, with Chris Lynn, and Josh Hazlewood making way for Daniel Christian and Ben Cutting.
PLAYING XI

Australia - Aaron Finch, Cameron White, Brad Hodge, Glenn Maxwell, George Bailey, Matthew Wade, Daniel Christian, Ben Cutting, Nathan Coulter-Nile, Mitchell Starc, James Muirhead.

England - Luke Wright, Alex Hales, Joe Root, Eoin Morgan, Ravi Bopara, Jos Buttler, Ben Stokes, Tim Bresnan, Stuart Broad, Chris Jordan, Jade Dernbach.
Follow Emirates 24|7 on Google News.