Australian quick Harris facing 'long rehabilitation'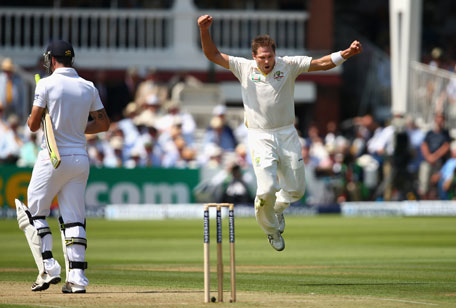 Veteran Australian paceman Ryan Harris has undergone surgery on his knee, but faces a long rehabilitation and is likely to be sidelined until October, Cricket Australia said on Wednesday.

Harris, acclaimed a hero after battling through the pain barrier to spearhead his country to a dramatic series victory over South Africa in Cape Town last week, went under the knife on Tuesday.

"Ryan underwent surgery yesterday on his right knee, which included a clean out of some loose bits of bone and removing bone spurs within the joint," said team physiotherapist Alex Kountouris.

"Ryan will be on crutches for a few weeks and we expect a long rehabilitation period.

"Hopefully for Ryan he will be fit to play in the Test series against Pakistan later in the year but we will continue to assess his progress over the period."

Australia are due to face Pakistan in three Tests in October before hosting India later in the year.

Despite being 34, Harris said he was determined to bounce back.

"It's not a new knee, but it feels like a new knee," he said after the operation.

"It's nowhere near my career (being) over. I did this to play longer, more than anything.

"My knee is bit more damaged than the last time they went in a few years ago, but it's still a good knee. And with what I put up with over the last few weeks, I can probably put up with just about anything now."

Injuries have limited the paceman to just 24 career Tests, which have yielded 103 wickets at an average of 22.56.

"I still aim to play five Tests in England (next year) if I make it," he said. "I'm still able to play back-to-back stuff.

"Those sorts of decisions are out of my hands, that's up to the medical staff or the coaching staff, but I've shown I can do it.

"It's always a struggle as a bowler in general, whether you've got chronic knee injuries or anything, it's hard to back up in Test matches. So I'll get nice and fit, nice and strong and make sure I can do that."
Follow Emirates 24|7 on Google News.