Bans damaging say Pakistan ex-players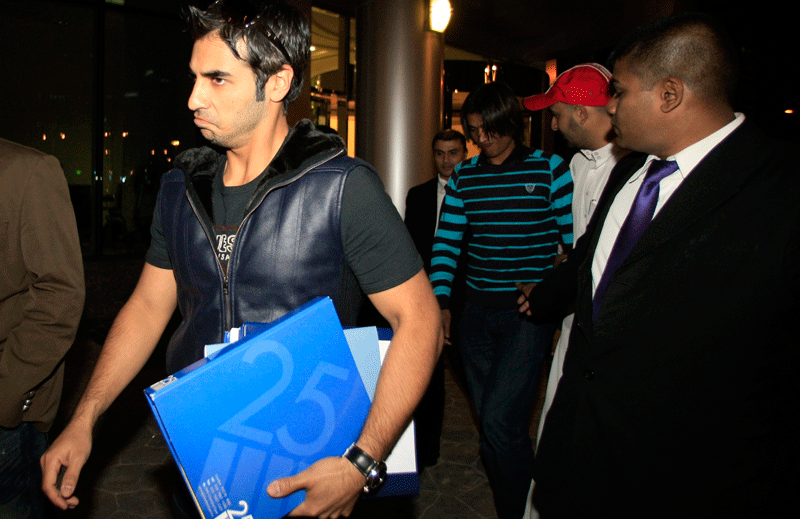 Former Pakistan captain Wasim Akram admitted that the lengthy bans handed out to Salman Butt, Mohammad Asif and Mohammad Aamer for corruption on Saturday represented a new low for the besieged sport in the country.
"I feel sad for all three of these kids, two just over 20 and one just 18," Akram told AFP.
"I feel for their families because they are key players. This is a low for Pakistan cricket."
The International Cricket Council's anti-corruption tribunal on Saturday banned Butt for 10 years (five suspended), Asif for seven years (two suspended) and teenager Aamer for five.
The bans were handed after an investigation into allegations made by the News of the World that the players deliberately bowled no-balls in the Lord's Test against England in August.
Akram said he hopes the punishments will serve as a lesson.
"Not only for cricketers in Pakistan, but also for the players of the world, this should be a lesson, and I sincerely hope that the ICC has set an example with this verdict and this will serve as a clean-up, not only in Pakistan cricket, but in world cricket," said Akram.
Akram said Aamer is a special talent.
"I was very happy to see Aamer's progress, but with this punishment his career will suffer. I hope he comes back strongly," said Akram, of the teenage left-arm paceman who has been compared to him.
Former Pakistan spinner Iqbal Qasim termed the decision as "upsetting".
"All three players were the future of Pakistan cricket, so it's a very upsetting day," said former spinner Iqbal, who is also the head of the National Bank team for which all three players featured in domestic matches.
"All three had promising careers but it's sad that they fell into a trap and couldn't recover. They could have earned more through playing international cricket," said Qasim, also a former chief selector.
Qasim said the decision must serve as reminder for other cricketers as well as for Pakistan Cricket Board (PCB).
"I hope these punishments will help future cricketers be more responsible. I think it should also serve as a jolt for the PCB who should have curbed this before it happened," said Qasim.
Former captain Rashid Latif said the loss of the three players will be temporary.
"To gain an honest system, and have unquestionable integrity, you have to lose something and players come and go - this will be a momentary loss for Pakistan cricket," said Latif, who blew the match-fixing whistle against fellow players in 1994.
Former paceman Sarfraz Nawaz termed the decision as "pre-judged".
"The ICC had decided to give punishments to the players because there was too much pressure on them to curb fixing," Nawaz told AFP. "It's an important day for world cricket and very sad for Pakistan."
Nawaz said Aamer and Asif will be sorely missed in next month's World Cup.
"Aamer and Asif are a huge loss," said Nawaz, of the new-ball pairing.
"They are the world's best opening bowlers and will be missed, while Butt has matured into a solid opener."
Fans in the street had a mixed reaction, some calling the decision a "conspiracy" against the Pakistan team.
"The ICC is biased," said student Mohib Alint. "They banned three key players so that Pakistan could not win the World Cup."
But other fans blamed the players.
"All three have spoiled Pakistan's cricket image. We cannot play cricket at home because teams do not travel to Pakistan because of security fears and now because of spot-fixing, teams will refuse to play us anywhere," said banker Shabbir Hussian.
Follow Emirates 24|7 on Google News.