Batting the key for Misbah and Strauss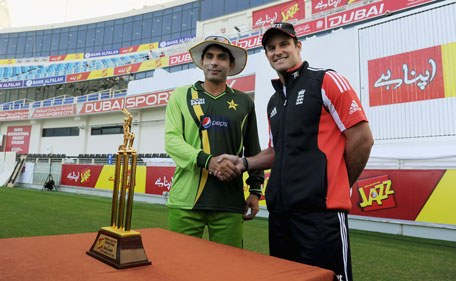 Rival captains Misbah-ul Haq and Andrew Strauss both believe batsmen will be under pressure to perform as Pakistan take on England in the first Test starting in Dubai from Tuesday.
The pitch for the opening encounter of the three-Test series at Dubai International Cricket Stadium is likely to help spin bowlers and although Pakistan were certain to play with Saeed Ajmal and Adul Rehman, Strauss gave little hints at England's combination.
"It will depend on the state of the wicket, you always pick your team which you think gives you the right balance to win a Test and if the wicket turns a hell of a lot then obviously two spinners become an option," he said.
England, who rose to the top of the world Test rankings in August last year, last played two spinners in a Test in March 2010 when off-spinner James Tredwell partnered Graeme Swann.
But they will be hard pressed to include Monty Panesar, considering his eight-wicket haul in their second tour game win and the history of the pitch which helps spinners.
Pakistan won one of the two Tests played here so far, against Sri Lanka in October last year on the back of 13 wickets by the trio of Ajmal, Rehman and opener Mohammad Hafeez, who gives them an extra option in spin.
Spinners also took 11 of the 25 wickets that fell in the drawn Test between Pakistan and South Africa in 2010.
England losing Tim Bresnan - who gives them a batting option - as soon as the tour started, will push them to either play with five batsmen and include a third seamer, but Strauss remained philosophical.
"I will say we are trying to put the right team to win a game of cricket. That's always our philosophy," said Strauss, who showed confidence paceman Stuart Broad will recover from a minor foot injury.
"Because the wickets here are reasonably flat it's a great challenge for our bowlers who have done well, so its a logical next step to say 'right come on lets prove ourselves' and certainly you have to play well against them," said Strauss.
Strauss said Panesar bowled well and it was nice to see him back in the picture after playing the last of his 39 Tests at Cardiff in the 2009 Ashes.
"Monty bowled exceptionally well (in the side game) and it's fantastic to see him back, but as I said you pick the side which fits the conditions and allow you to win and that's all we will do tomorrow.
"The first Test always sets the tone for the rest of the series so the initial skirmishes are always important, Pakistan have played lot more cricket out here but the things are quite even in this respect as we have a good build up."
Misbah agreed batsmen will face a real test in Dubai.
"In Dubai whichever team bats good, gets an edge and its not only the game of spinners, I think fast bowlers also play a very important role, if you look at the last series (against Sri Lanka), the team which batted well won," he said.
"The wicket looks much better than the last Test we played here, we have a balanced attack and the conditions here favours us but at the same time its important to play good cricket against England.
"They are the top side in the world so we just can't rely on the fact that we know the conditions well. We still have to play good cricket to beat them."
The second Test will be played in Abu Dhabi (January 25-29) while the third will be played in Dubai from February 3-7. The Tests will be followed by four one-day and three Twenty20 internationals.
Follow Emirates 24|7 on Google News.